New NGO to protect Russian war monuments
Published time: 8 May, 2014 11:59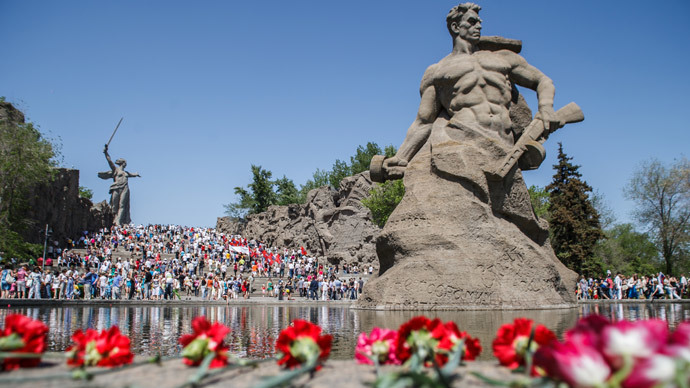 A group of Russian activists supported by MPs, prominent artists, and public figures intend to set up a group to protect WWII monuments in Russia and abroad, that become neglected or vandalized.
The "People's Network of Memory" movementwas started by the head of the Russian T-34 tank museum, Larisa Vasiliyeva, with the support of Lower House Deputy Speaker Lyudmila Shevtsova, other State Duma members and senators and artists such as Iosif Kobzon and Stanislav Govorukhin.
Vasiliyeva called the monuments made of original WWII tanks, cannons, aircraft, trucks and other military hardware, and sculptures of war heroes "precious memorials", and added that even though such sites had been used for solemn events and commemorations, today they are less well cared for and are often vandalized.
"Modern vandals throw the statues from the pedestals and paint them in some unimaginable colors demonstrating a hostile attitude. Vandalism is nothing else than a demonstration of moral debility bordering idiotism. But it can inflict cruel pain to mankind's pure memory and the People's Network of Memory is set to protect the monuments," Vasiliyeva told the newspaper.
She emphasized that the NGO would be working in Russia and in neighboring countries in cooperation with representatives of the Russian diaspora.
One of the backers of the movement – the head of Russia's Shchukin Theater School Yevgeniy Knyazev – told reporters that they pursue their goals through non-violent methods. "We also have no intention to hold rallies or march on the Red Square – such events are usually done for self-promotion of their participants, not for attracting public attention to the problem. But I am ready to raise the issue with various state bodies," Knyazev said.
There are over 100 monuments to the heroes and victims of the Second World War in Russia and Europe. In recent years, some of the memorials, especially in some Eastern European countries and in the Baltics, suffered from attacks by vandals.The Russian Foreign Ministry protested such incidents, but the Russian people could do little to restore the damaged and protect them further.
The latest incident took place in Vienna, Austria on Wednesday night – unidentified people painted a Ukrainian flag on the statue of the Soviet warrior-liberator in the city center and damaged the plaque naming the artist.