Controversial Stalin monument unveiled in Russia's Sakha-Yakutiya republic
Russian war veterans in the republic of Sakha-Yakutiya believe that Joseph Stalin's achievements as military commander of the Soviet Union deserve to immortalized in a bust statue, regardless of the controversy that surrounds the late leader.
The veterans, supported by the local branch of the Communist Party of the Russian Federation, collected money and material for the bust, and a local diamond mining company agreed to place the monument near its office in the republic's capital, Yakutsk.
Local authorities expressed no objections to the initiative, the office of Yakutsk city Mayor Aysen Nikolayev reported.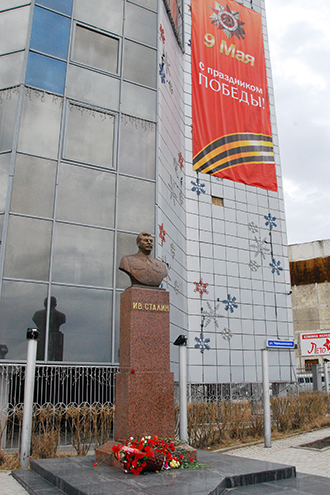 At the opening ceremony, Communist Party activists called on the public to judge historic figures by the results of their actions, not by emotion. They also promised to continue the fight for "the free state, free education and equality of the people."
The push to build the Yakutsk monument to Stalin began about six years ago. At the time, the Communist Party filed a request with regional authorities to build the statue to mark the 90th anniversary of the October Revolution. Former Yakutsk Mayor Yuri Zabolev staunchly opposed the move, vowing there would be no monuments to Stalin in Yakutsk while he was in office.
In May 2012, Nikolayev was elected mayor and Zabolev stepped down. However, the bust of Stalin that was unveiled on Wednesday is actually the second monument to Stalin built in the republic of Yakutia in the 21st century: In 2005, a bust of the Soviet leader was erected on the Victory Square in the town of Mirny.
Controversies around Stalin's name and personality are constantly raised in Russia, and almost always become widely debated topics among the public and media.
Supporters of Stalin cite the dictator's role in the early industrial and scientific development of the USSR, as well as the Russian victory in World War II achieved under Stalin's command. Opponents point to Stalin's notorious programs of political repression, his apparent disregard for human casualties in economic reform and in war, and his infamous cult of personality that was denounced even by the Soviet Communists soon after the leader's death.
The most well-known PR stunt by Stalin supporters is likely the 'Stalin buses' story – an initiative by several activists who put Stalin's portraits on St. Petersburg city buses in 2010 to mark the World War II victory anniversary. The event was not sanctioned by authorities, meaning the portraits were placed as advertisements, but it nevertheless sparked heated debate.
In 2011 and 2012, other Russian cities launched their own 'Stalin buses,' again drawing widespread attention from bloggers and mass media. However, public interest has apparently dwindled this year, as the buses only appeared in three cities in early February, as the country marked the anniversary of the Battle of Stalingrad.
You can share this story on social media: