Surkov leaves politics, enters government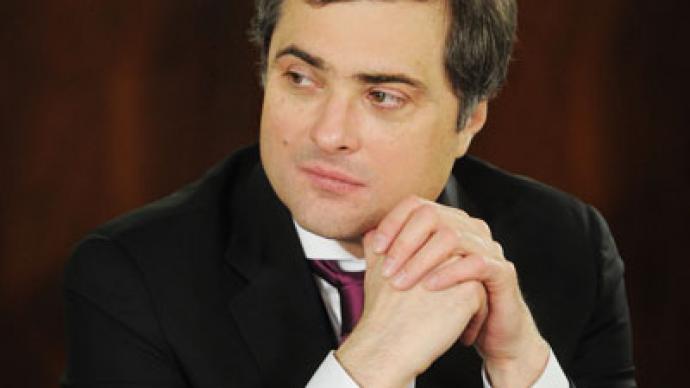 Vladislav Surkov, who has long served as first deputy chief of presidential administration, has been appointed deputy prime minister responsible for modernization and innovation. Surkov stated he will not be involved in political issues at all.
"I have asked the leadership for a long time to give me an opportunity to start a new life from the New Year," Surkov told journalists. "I was heard, and I'm very grateful to them for this."
When asked whether he will somehow take part in calming down protest activities, he gave a negative response, adding that he is "too controversial for the beautiful new world."
President Dmitry Medvedev informed him of the appointment personally on Tuesday. Medvedev noted that Surkov has significant experience in the field as member of the presidential Commission for Modernization, to which he had contributed greatly.
"I believe that it's high time for you to take up these issues as member of the executive power," the president said.
In an interview with Interfax, the now former deputy chief of the Kremlin administration stated that democracy in Russia has been preserved and expressed hope that it will successfully overcome upcoming challenges.
"I hope I didn't let down my employers and colleagues," Surkov added.
Thinking back to years of his work at the president's administration, he recalled that he was among those who helped Boris Yeltsin to accomplish peaceful transfer of power, then among people who helped the then-president Putin to stabilize the political situation in Russia, and finally – in the team of those who helped Medvedev stabilize that situation.
"These were excellent teams. Top league," Surkov stated. "It was a good job," he said, adding though that there were also mistakes but that is a topic to discuss some other time.
Surkov built his career at the same time the modern Russian state evolved into its present form. He started as a businessman, working in the advertising department of the Menatep holdings, which at that time belonged to Mikhail Khodorkovsky.
He was so successful that in the mid-90s he became the president of the Russian Advertisers' Association. From there he moved to senior management positions in Khodorkovsky's Menatep Bank and the Rosprom Holdings, but in approximately 1997 Surkov and Khodorkovsky parted ways and Surkov was appointed head of the PR department at Russian Public Television – the main Russian television channel.
After working in television, Surkov began his political career by joining the Presidential Administration in 1999, first as an aide to the head of the Presidential Administration, and later as deputy head and first deputy head of the Presidential Administration. As deputy head of the Presidential Administration Surkov is also an aide to the Russian president.
Russian political analysts believe that Surkov is the author of the Sovereign Democracy concept – the main political paradigm of Vladimir Putin and the Russian authorities – which stands for democratic development of society, but opposes any influence from abroad, as foreign countries are seen as economic and political competitors rather than allies.
Surkov writes poetry and prose. His verses have been used as lyrics on two rock albums and it is highly likely that he is the author of one published novel. Surkov neither confirmed nor denied these reports, but did write a critical review on the book.