Russian president's chief of staff accepts parliament speaker post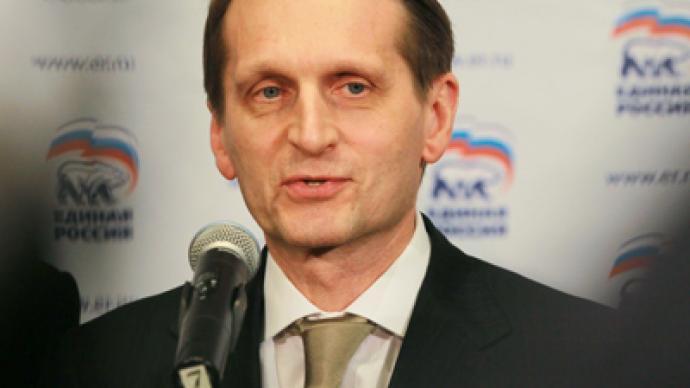 Sergey Naryshkin, who has served as Medvedev's chief of staff for the last four years, will become the presiding officer of the lower house of parliament. He topped the United Russia election list for the Leningrad Region in the December 4 poll.
Rumors as to who will take up this important position have been flying around since the previous speaker, Boris Gryzlov, surrendered his mandate. Naryshkin headed the list of potential candidates, along with the deputy prime minister, Aleksandr Zhukov, who is in charge of Russia's Olympic Committee. Zhukov was passed over for the post because MPs feared it would detract from his duties. MPs felt that Naryshkin was the strongest candidate for the position of speaker, with his many years of political experience. The man himself said the matter of his taking the post was discussed, not just with fellow party members, but with opposition parties, the president and prime minister.The position still has to be officially voted upon by all 450 deputies, and the minimum votes needed for Naryshkin to take the job are 226. But with United Russia winning 238 parliament seats, the fact that the remaining three parties are not keen to offer Naryshkin their votes might not matter very much.