Russia works to enhance CSTO's international role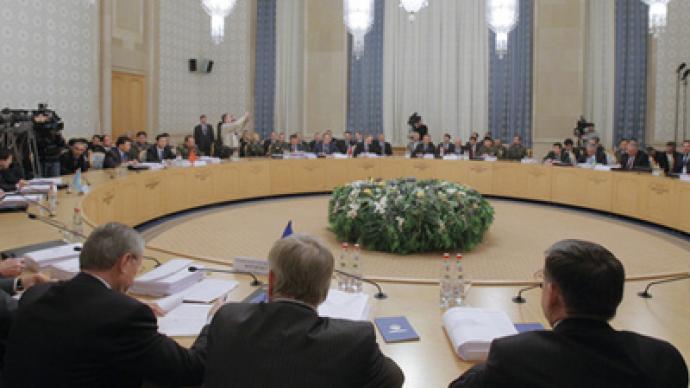 The Collective Security Treaty Organization is preparing to become more effective in response to crises and raise its prestige on the world arena.
Moscow is interested in enhancing the role of the CSTO at international level, Russian Foreign Minister Sergey Lavrov said. He was speaking at a joint meeting of heads of foreign, defense ministries and secretaries of the national security councils of CSTO member states in Moscow on Thursday. They were busy preparing draft documents for a Collective Security Council (CSC) regular session, which will be held on Friday.
All heads of the CSTO member states have confirmed their participation in the CSC session. The organization comprises Armenia, Belarus, Kazakhstan, Kyrgyzstan, Russia, Tajikistan and Uzbekistan.
Within the period of Russia's presidency the CSTO has focused its efforts "on strengthening interaction among the members and on enhancing its foreign policy role," Lavrov said. He stressed that this year's events in Kyrgyzstan became "a test of strength" to the CSTO. The situation was stabilized there "through joint efforts," he noted. The joint work stressed the relevance of the CSTO as "a key element in ensuring security in the post-Soviet space," Itar-Tass quoted the minister as saying.
At the same time, the events in Kyrgyzstan revealed the need to improve the rapid reaction force's response to crises, Lavrov said. Belarus, which takes over the chairmanship next year, has already voiced its interest in developing this force. Although, President Aleksandr Lukashenko recently criticized the state of military cooperation between Moscow and Minsk. However, analysts do not think problems will arise when Minsk assumes presidency.  
CSTO presidents are expected to discuss over 30 issues concerning collective security. They will consider draft documents on better efficiency of crisis management, the status and means of the collective security forces and military-economic cooperation, CSTO press secretary Vladimir Zainetdinov told Interfax.
On Thursday, the councils of foreign and defense ministers fixed draft documents, including one on raising the CSTO's effectiveness in the field of rapid reaction to emergencies and the use of peacekeeping forces, Lavrov said. A draft declaration on the interaction in the international arena was also agreed.
If the documents are approved by the heads of state, the CSTO is expected to become better prepared to provide peacekeeping forces on certain terms in response to a request from a member state.  
Belarusian Foreign Minister Sergey Martynov said his country was ready to raise the organization's effectiveness. The documents prepared in Moscow bring "fresh opportunities" for the CSTO in response to crises, he said.