Russia launches criminal probe into Kiev embassy attacks on Duma Election Day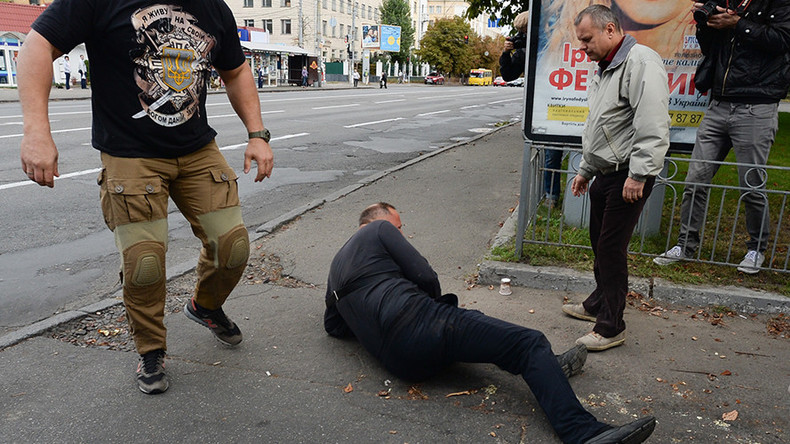 The Central Investigative Committee has instigated two criminal cases into attempts to disrupt the voting held at the Russian embassy in Kiev, Ukraine, last Sunday as part of Russia's parliamentary elections.
The committee, which is the federal agency specializing on important crimes that attract a lot of public attention, reported on Thursday that it started criminal cases under articles "attack on institutions that are under international protection" and "using force to prevent a citizen from exercising their voting rights." In Russia these crimes carry punishment of up to 10 and up to five years in prison respectively.
READ MORE: Ukrainian radicals attack Russian Embassy on eve of parliamentary election

Investigators also said that they decided to start the probes after receiving information about a violent rally held near the Russian embassy in Kiev late on September 16. According to reports, the protesters, many of whom were members of Ukrainian extreme nationalist groups, hurled smoke bombs on the embassy territory and fired at the building with a fireworks battery, causing damage to Russian state property.
On Election Day itself, several people headed by a Kiev municipal lawmaker representing the nationalist Freedom party tried to block the entrance to the embassy in order to prevent Russian citizens from reaching the ballot station located on the premises of the diplomatic mission. As some people tried to enter the embassy the Ukrainian picketers started a fight and later burned a Russian flag.

A similar incident took place in the city of Odessa, where representatives of the extremist group Right Sector attempted to block the entrance to the Russian Consular General.
Earlier this month Ukrainian President Petro Poroshenko instructed the Foreign Ministry to inform Moscow that it was impossible to hold Russian elections on Ukrainian territory. The step was taken soon after the Russian Foreign Ministry had asked the Ukrainian authorities to ensure the safety of any citizens visiting the Russian embassy in Kiev and consular offices in Odessa, Kharkov and Lvov, in order to cast their ballots on Sunday, September 18.
Russia replied with a statement reading that Ukrainian authorities have no power over events that take place within foreign diplomatic missions, including the Russian embassy and consulates. Last Thursday, two days before the polls, Foreign Ministry spokesperson Maria Zakharova said that Russia intended to open ballot stations in its diplomatic offices in Ukraine despite Kiev's refusal to cooperate and noted that the Organization for Security and Cooperation in Europe (OSCE) had assured Russia it would monitor the process and report any violations.
READ MORE: Russia to hold elections for its citizens in Ukraine despite Kiev restrictions

After last week's attacks on the Russian embassy in Kiev, the Russian Foreign Ministry lodged a formal complaint with the Ukrainian Foreign Ministry, demanding a proper investigation and additional measures to secure the safety of diplomats and embassy staff.
However, Ukrainian Prime Minister Vladimir Groisman played down the attack in press comments, calling it an act of hooliganism and a "minor incident unworthy of comment." He also refused to tighten security near the embassy building and said that on the day of the Russian elections it would not differ from any other day.