Russian public doesn't trust monitors to make elections fair - poll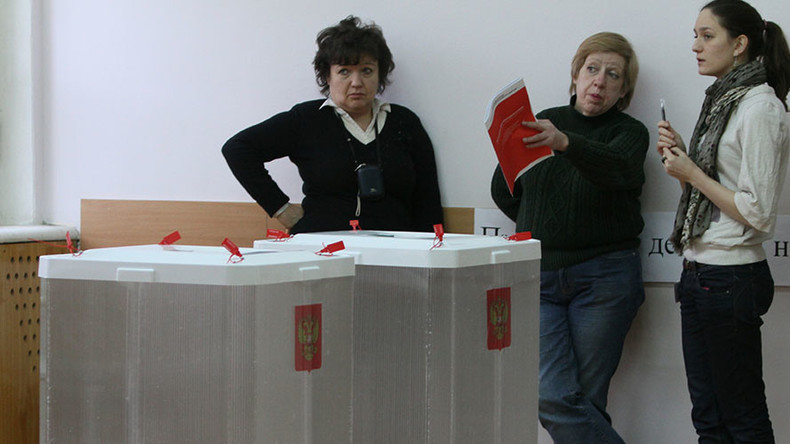 Less than half of all Russians think that the presence of monitors can make elections more honest and transparent, with a third of respondents holding that external monitoring has no effect at all.
According to the latest research made by the All-Russian Public Opinion Center (VTSIOM) only 43 percent of Russians think that the presence of observers at elections make them fairer, down from 49 percent in 2011. Thirty-four percent of those polled said that monitors' participation in elections process had no effect whatsoever on its fairness, also down from 36 percent five years ago.
The share of those who said that in their opinion monitors were actually making elections less fair increased from 5 percent in 2011 to 8 percent. Some 15 percent of respondents said they could not give a direct answer to the question, also up from 10 percent five years back.
READ MORE: Moscow mayor orders direct video monitoring of forthcoming Duma elections

When researchers asked Russians what, in their opinion, the main motivation was of those who work as elections monitors, 30 percent said it was just a way to earn money, but 19 percent said they were driven by their pursuit of justice and fairness. Six percent answered that this was a way to exercise 'an active civil position', 3 percent hold that people who perform these functions are forced to do so, while a further 3 percent referred to unidentified "own interests." One percent of poll participants said that observers were just killing their spare time, another 1 percent named various "other reasons". A sizable 41 percent answered that they had no idea why people were working as elections monitors.
Of those polled, 6 percent said that they had previously worked as elections monitors and 94 percent have never performed such a function. At the same time, 18 percent said they were ready to become monitors in some polls in the future, 8 percent also agreed to participate, but only on condition that their work was supported by the state and the community. Some 70 percent answered that they would turn down such proposal.
Russia is holding parliamentary elections on Sunday, as well as a set of regional polls in which citizens would elect several regional and municipal heads and legislatures.
The head of Russia's Central Elections Commission (CEC), Ella Pamfilova, has previously urged all political parties to send their representatives to monitor the polls in order to prevent any violations. In the same statement she warned civil servants about criminal responsibility for meddling with the voting process.
In July, representatives of the CEC told reporters that they had signed bilateral agreements with 27 nations, allowing their representatives to conduct monitoring at the forthcoming polls. They also said that albeit the United States was not among these countries, but invitations could be extended to US citizens on a personal basis.
READ MORE: US election monitors to get personal invitation to Russian Duma polls
Separate invitations have been extended to representatives of several major international blocs, such as the Commonwealth of Independent States (CIS), the Shanghai Cooperation Organization (SCO), the Collective Security Treaty Organization (CSTO) and the OSCE's Office for Democratic Institutions and Human Rights (ODIHR).
At the same time, the Parliamentary Assembly of the Council of Europe (PACE) has been denied access to the State Duma elections because of the ongoing infringement of the rights of the Russian delegation in this group.