'Russia never leaves its compatriots behind the red line' – Medvedev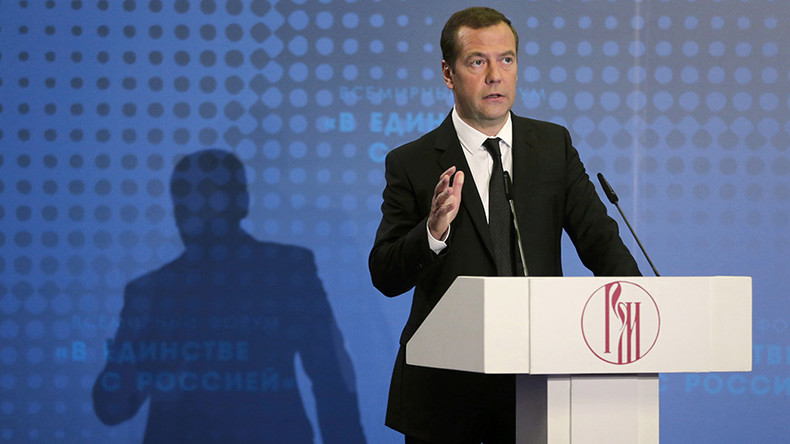 Russia will defend the interests of its citizens in any part of the world, the leader of the parliamentary majority party United Russia, Prime Minister Dmitry Medvedev, said at a major international political forum in Moscow on Monday.
"The protection of the rights and interests of Russian citizens in foreign nations remains among our most important tasks," Medvedev told the participants of the "In Unity with Russia" Forum on Monday. "This is a major objective for government agencies. Currently, the Foreign Ministry is working on it with the State Agency on International Cooperation and a special commission that deals with the problems of ethnic Russians in foreign countries. Of course, there are non-government organizations as well," he added.
"I want you all, as well as the rest of our country's citizens, to feel every minute that you are backed by the Russian Federation – the country that never leaves its people 'behind the red line,'" Medvedev told the forum participants.
READ MORE: Russia to up foreign student quota for more 'soft power' leverage
He emphasized that it was extremely important that all of these organizations act as one when Russian citizens abroad need help.
"This could be providing defense for a mother who cannot take her child out of another country, or forcing Russian kids to study in a foreign language. I emphasize, I am talking about forced transition to a different school program. It could also be providing legal aid to our citizens who have received unjust sentences from foreign courts," he said.
"We will protect your rights and interests in any place in the world. We will protect you from discrimination, from oppression by local authorities or groups and, if it is deemed necessary, we will help you solve social problems, including problems with pensions or medical insurance," Medvedev stated.
In late 2015, Foreign Minister Sergey Lavrov wrote an article in the daily Rossiiskaya Gazeta promising that Russia would continue to develop the "Russian World" concept and support compatriots around the globe, despite resistance from the US and the EU.
Lavrov wrote that the populations of Russian communities abroad total about 30 million people, making up the world's four largest diaspora. He also notes that Russian government programs also support the cultures and traditions of other peoples, in particular those of Tatars and Jews.
READ MORE: FM Lavrov pledges stronger support to Russian diasporas despite Washington & Brussels

Back in 2011, a special foundation was created and tasked with rendering legal and organizational assistance to Russian citizens whose rights have been violated abroad. In a statement dedicated to the launch of the project, the Russian Foreign Ministry said that the new organization would work in accordance with the principles of international law in order to protect human rights.
The idea of creating the foundation was first voiced in 2009 by then-president Dmitry Medvedev, who stressed that protecting the rights and interests of Russians living abroad would remain a priority for Moscow. Medvedev also promised to develop a network of Russian scientific and cultural foundations, while pledging state support for NGOs dealing with the human rights problems of Russian citizens and ethnic Russians abroad.