Russia to up foreign student quota for more 'soft power' leverage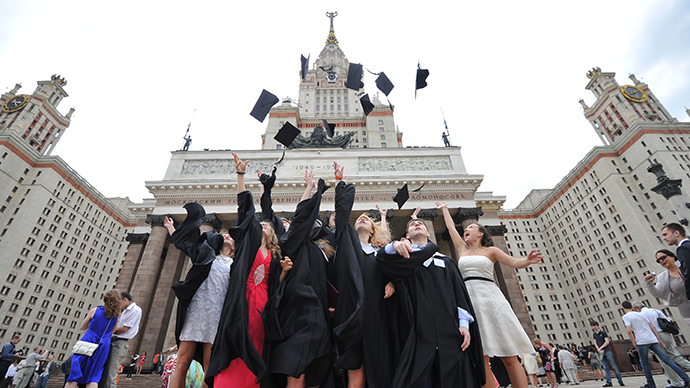 Several ministries have come up with initiative to raise the quota for foreign students in Russian institutes and universities saying that this would help to promote national interests around the world.
The proposal was released for public discussion through the special government web portal, and suggests increasing the quota for state-sponsored scholarships for foreign students from 15,000 to 20,000.
The idea has been put forward to the government by the Science Ministry, Foreign Ministry and the State Agency for Cooperation with CIS countries, the Rossotrudnichestvo. The authors say that providing education to foreign students is an essential component of "forming pro-Russian national elites in foreign countries," and "an effective promotion of Russian national interests including the long-term ones."
"Raising of the [student] quotas would help to maintain the existing level of allied relations with a number of foreign countries," reads an explanatory note.
"It is important for us that graduates of good Russian institutes will return to their home countries and become well-known doctors, influential businessmen, even ministers. And these people will always maintain a good attitude towards Russia," the head of Rossotrudnichestvo, Lyubov Glebova, said in comments to the popular business daily Kommersant.
"Using state quotas and scholarships for foreign students definitely helps to promote the interests of the country that initiates them. There is nothing new in it – similar practice existed in the USSR and exists to this day in leading academic nations," said Sergey Yerofeyev, deputy rector in charge of international cooperation of the Higher School of Economics.
READ MORE: Russia drafts 3-year foreign PR plan based on soft power – report
According to Rossotrudnichestvo requests for additional places in Russian Universities have already been made from such countries as Angola, Brazil,Venezuela, Vietnam, Germany,Palestine, Syria, Iran, Yemen and others. Russian authorities have previously decided to allocate additional means for 2,200 places for students from Asia, 1,200 places from Africa, 700 places for citizens of CIS countries, 500 places for people from the Middle East, and 200 places to Latin America and the European Union.
The proposal suggests that creating an additional 5,000 places would cost 206 million rubles or $4.12 million in 2016.
In 2013 Russia's Federal Agency for International Humanitarian Cooperation unveiled a three-year government plan to improve the country's image through science and culture centers, youth festivals and other instruments of 'soft power'. The major events mentioned in the plan include the 2017 Youth and Student festival in Moscow, and the agency said it intended to attract more young foreigners to Russia through raising the foreign student quotas at Russian universities as well as re-launching the 'houses of friendship' with foreign nations – large state-sponsored culture centers.