Patriotism is a must for State Duma – Putin to Russian MPs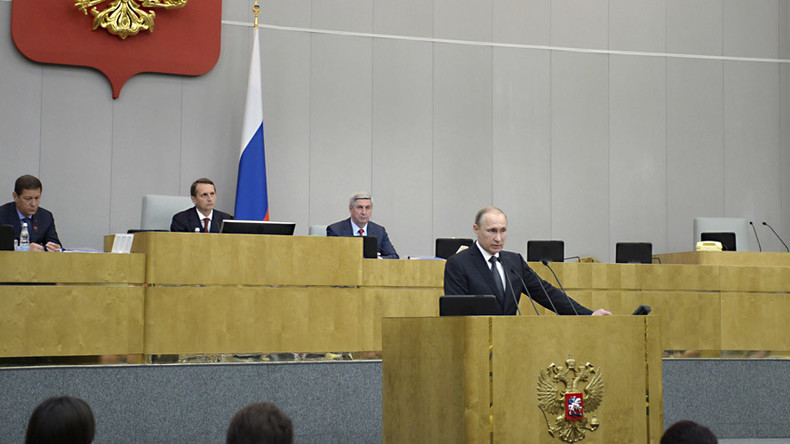 The Russian president has said the Lower House has ended the work of its current term with 'decent results' and thanked the MPs for their will to jointly work for Russia's security and stronger position in the international arena.
Vladimir Putin was speaking before the State Duma on Wednesday, as it was wrapping up the current parliamentary session that was the last for at least some of the lawmakers. The next parliamentary elections are scheduled for mid-September.
The president praised the State Duma's work to integrate the Crimean Republic and Sevastopol into the Russian Federation as a "historical achievement." He also said the lawmakers had managed to create a solid legislative base for fighting corruption, in particular the ban on foreign bank accounts or other foreign liquid assets for high-ranked civil servants. Now, it's important to ensure that these laws are strictly observed by all Russian citizens regardless of their official positions, Putin urged.
READ MORE: Putin orders all 2016 parliamentary polls move to single election day
The Russian leader also said the MPs and candidates for parliamentary seats must ensure the successiveness of the Lower House by guaranteeing that the September polls are honest.
"The readiness for consolidation for the sake of the common cause and Russia is the distinctive feature of the current gathering [of the State Duma]. Today, it is very important that the new State Duma continues these traditions including the strict observation of all parliamentary ethics rules," Putin said.
"Despite attempts to play on disagreements between parties no one could break your unity and this means they failed to break the consolidation our society as a whole – your society and your voters," he noted.
"I am convinced that stability and trust are the basis, the key factors for further successful development of our country," the president said. He also urged all political forces in Russia to think not only about winning the upcoming elections, but also about ensuring people's trust in the validity of the elections results.
"Intensive competition is ahead, political debates and a difficult period for all who will participate in elections. I expect that you will do everything for these elections to be honest and transparent, run in an atmosphere of mutual respect."
READ MORE: New rules for next Russian parliamentary election
On June 17, Vladimir Putin signed a decree stipulating that parliamentary elections be held on September 18 this year. The polls will be conducted under new rules – half of the 450 lower house MPs will be running on party lists and the other half from single-mandate independent constituencies instead of the previous system, in which all deputies were elected on party tickets.
In addition, the election threshold for parties has been lowered from seven to five percent and party registration rules have been simplified, which has resulted in a sharp increase in political competition.