Putin orders all 2016 parliamentary polls move to single election day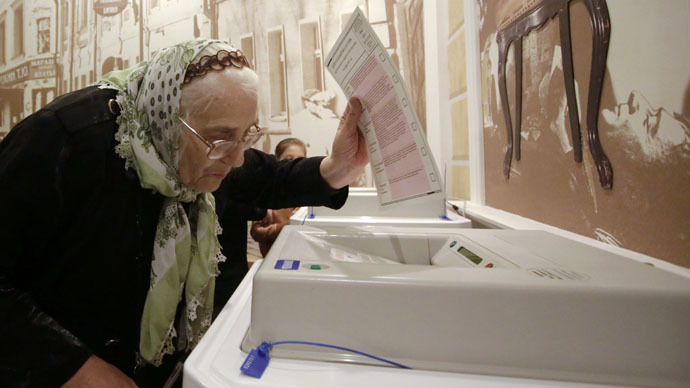 The Russian President has signed the law ordering the 2016 federal parliamentary elections move from December, when the powers of the current MPs will expire, to the universal national election day on September 18.
The law was passed by the parliament in mid-June and earlier this month Russia's Constitutional Court ruled that the slight cut of the term of the current State Duma was not infringing anyone's rights if done once as an extraordinary measure.
The court also urged the state authorities to move the date well in advance so that all political parties had time to prepare for the polls and that the principle of political competition was not violated.
Parliamentarians whose terms are cut will continue to receive salaries and insurance until December 2016 and will be allowed to reside in state apartments where they live now.
The legislative draft ordering the change of the 2016 federal elections date has been prepared by three parliamentary caucuses – Fair Russia, United Russia and Liberal-Democratic Party together with Lower House Speaker Sergey Naryshkin. The sponsors of the bill said it would save money and would renew the State Duma by the end of September when the parliament would have to vote on the new budget.Speaker Naryshkin said that it would be just if the budget is approved by the same MPs who would be responsible for fulfilling it.
READ MORE: Ex-Russian finance minister Kudrin suggests early presidential elections to speed up reforms
The Communist Party strongly opposed the moving of the elections date from the moment the bill was drafted in the State Duma. Its leader, Gennady Zyuganov said it was "disrespectful to the country and voters," and complained of insufficient time to hold a proper election campaign. Zyuganov also told reporters that if the elections were held in September, major political debates would be held and televised in August "when half the people are away on vacation, and the other half are busy harvesting the crops."
After Vladimir Putin signed the bill on the 2016 elections date into law the head of the Communist Party legal department, MP Vadim Solovyov, told reporters that in mid-September his caucus will contest this ruling in the Constitutional Court. He added that the text of the lawsuit was ready. Earlier Solovyov said that if the Constitutional Court rejects their claims the Communist Party would contest the law in the European Court of Human Rights.
You can share this story on social media: