Public chamber to launch educational courses for Russian football fans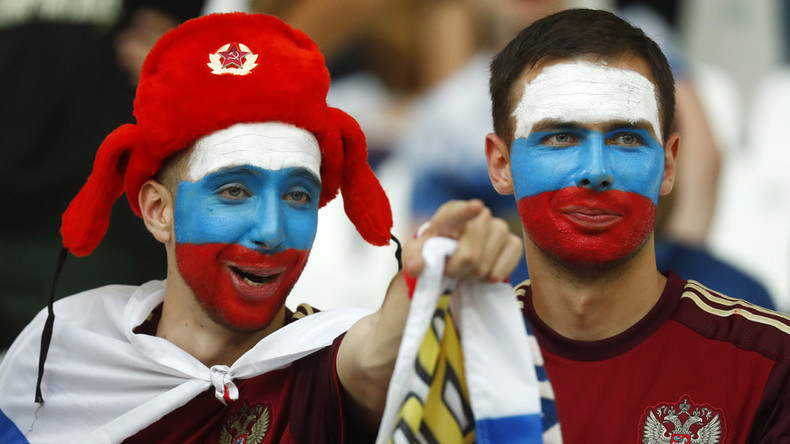 The Russian Public Chamber has unveiled a major program targeting football fans aimed at securing public order and safety during the 2018 FIFA World Cup in Russia, so that the incidents and scandals that have marred Euro-2016 in France can be avoided.
The secretary of the Public Chamber, Pavel Brechalov, told Izvestia daily that the work would start very soon after UEFA's Euro-2016 championships end on July 10. He also said that a detailed plan of the program would be ready before the beginning of the Russian Football Championship for 2016-17 that starts on July 31.
READ MORE: French authorities to deport 20 Russian football fans after Euro 2016 brawls

"We plan to begin the work right before the Russian Championship starts. We have a commission for physical culture and sports and a youth commission. With them we will draw up and present a plan of the work," Brechalov said. The activist added that the whole Public Chamber intends to work as an intermediary and a coordinator of joint events held by fans, football clubs, the Russian national team and other involved parties.
"The Public Chamber will hold consultations, roundtables and hearings with fans' unions that promote cultural support for football clubs – and definitely not the so-called ultras or extremist groups that have a negative effect on the image of our national team and Russia as a whole," the activist said. "We will gather all supporters' clubs and unions to develop a detailed and comprehensive plan aimed at preventing provocations."
Brechalov also said that such work was especially important in conditions when the media have a tendency to interpret every conflict and scandal in an anti-Russian way. Another factor that brought special importance to the program was the upcoming World Cup 2018 that will be held in Russia, he said.
However, the head of the Russian Football Union, Vyacheslav Koloskov, said in comments that he saw little sense in the proposed program because it only planned to cooperate with law-abiding and cultural fans and not those who start actual trouble. "It is like lecturing good pupils at school to make them study even better. Why work with good fans? They already act in a civilized way they know what they do and they support our team without violating any laws. We should work with those who travel abroad to start brawls, or better even let the police work with them," Koloskov said.
On Thursday, a court in France sentenced three Russian football fans to prison terms of between 12 and 24 months for their role in clashes that took place in Marseille during the Euro-2016 match with England. The convicts also will be banned from entering France for two years.
READ MORE: Russian fans jailed for up to 2 years in France over Euro 2016 violence

On June 14, UEFA fined the Russian team €150,000 and gave it a suspended disqualification over the behavior of Russian fans during the England match on June 11.