Russian Communist chief calls for international support of banned Ukrainian comrades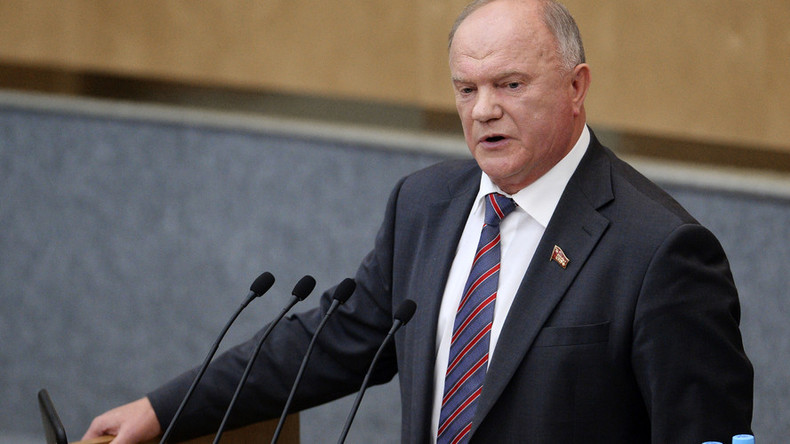 Gennadiy Zyuganov has said that EU bodies, leftist parties and all advocates of human rights should protest against a Kiev court ruling which outlawed the Communist Party in Ukraine.
"We call upon all factions in the European Parliament, the Council of Europe, all center-left political parties and anyone who supports human rights and the freedom of speech to raise their voices [against the court ban on activities of the Communist Party of Ukraine]. We will publish our statement tomorrow. We have never left our friends in peril and we will do everything to restore justice and ensure their security," the head of the Russian Communists said in a Thursday interview with RIA Novosti.
The comment came soon after a court in Kiev satisfied the lawsuit of the Ukrainian Justice Ministry and banned the activities of the Communist Party in the country. The ministry accused the Communist Party of propagating war and ethnic strife and of calls to overthrow the Ukrainian regime.
Zyuganov said in his interview that he considered the ban a futile attempt to force unanimity of thought in Ukraine. "No court and no person can forbid someone to think or adhere to certain values. It just will not work," he stated.
He also reminded reporters that he had previously addressed the leaders of Germany, France and Italy with a request to speak against the court process on banning the Ukrainian Communist Party and that all leftists forces in the world had supported his initiative.
READ MORE: Russian leftists blast Kiev plans to ban Ukrainian Communist Party
The Kiev regime first moved to outlaw the Communist Party in May last year after its leader Pyotr Symonenko accused the authorities of killing peaceful civilians in the country's southeast and spreading lies about the real situation. Symonenko also called on Kiev to stop the so called "anti-terrorist operation" in Donbass, saying it had turned into a "anti-terrorist operation against its own people."
The statement not only caused the irritation of officials and the legal proceedings against the party, but also threats to Symonenko's personal safety, which led him to eventually withdraw from the 2014 Ukrainian presidential race.