Russian leftists blast Kiev plans to ban Ukrainian Communist Party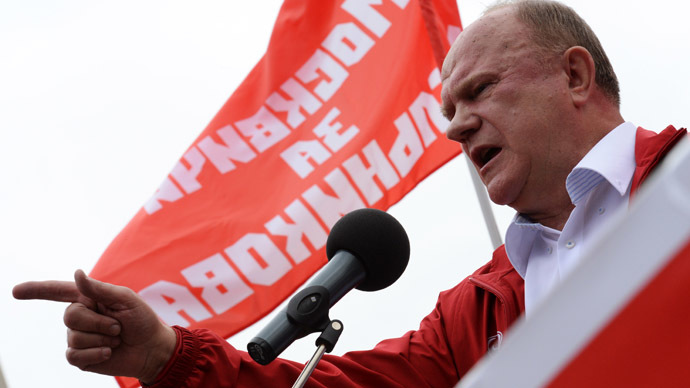 Russia's KPRF has attacked plans of the acting Ukrainian president to ban the Communist party in the country, as a threat to all leftist and patriotic forces, and says such a step is typical of fascist regimes of the past.
"All fascist regimes in the world started their activities with a ban on Communist parties. Such threats are a threat to all leftist popular and patriotic forces," the leader of Russian Communists, Gennady Zyuganov, said at a roundtable in the State Duma on Wednesday.
Zyuganov said the Communist Party of the Russian Federation had prepared a draft motion against the attempts to ban the Communist Party of Ukraine, and would submit it to the Lower House in the near future.
The Communist Party chief also added that he doubted the situation in Ukraine would change after the forthcoming presidential poll. "The suggestion that anything would settle there after May 25 is just an illusion. Presently, there are no conditions in Ukraine for holding normal elections," he said.
Zyuganov called for Russian authorities to give greater support to the residents of the South-Eastern regions of Ukraine who support the federalization of the country. "No one is demanding to send in troops, but we have a right to support our friends and brothers," he stated. "It is our duty to express our common will and do everything to help the Ukrainian people get rid of the fascist junta that tries to establish itself with US guidance," Zyuganov told the Russian parliamentarians.
The center-left Fair Russia party has backed the initiative. "We are unconditionally supporting the motion in support of the Ukrainian Communist Party because while approaches to ideology might differ, a ban on a political parliamentary party in any country is a nonsense, and should not be allowed," Fair Russia leader Sergey Mironov has said.
On Monday this week Ukraine's acting president Aleksandr Turchinov asked the Justice Ministry to ban the Communist Party for its alleged involvement in the pro-federalist movement in Donetsk and Lugansk Region that, in Turchinov's view, were threatening Ukraine's territorial integrity and national security.
The communists' policies have an openly anti-constitutional character Turchinov said in a letter to the Justice Minister.
In mid-May the leader of the Communist Party of Ukraine, Pyotr Symonenko, said that the current Kiev regime was killing peaceful civilians in the country's southeast and spreading lies about the real situation. Symonenko has called on Kiev to stop its "anti-terrorist operation," saying it has now turned into a "terrorist operation against its own people."
State Duma speaker Sergey Naryshkin said on Wednesday that Symonenko had planned to attend the roundtable in Russia but could not do so because of threats to his personal safety made in Ukraine. Naryshkin added that Symonenko had to withdraw from the Ukrainian presidential race for the same reason.