Communist MP proposes reintroducing death penalty for terrorists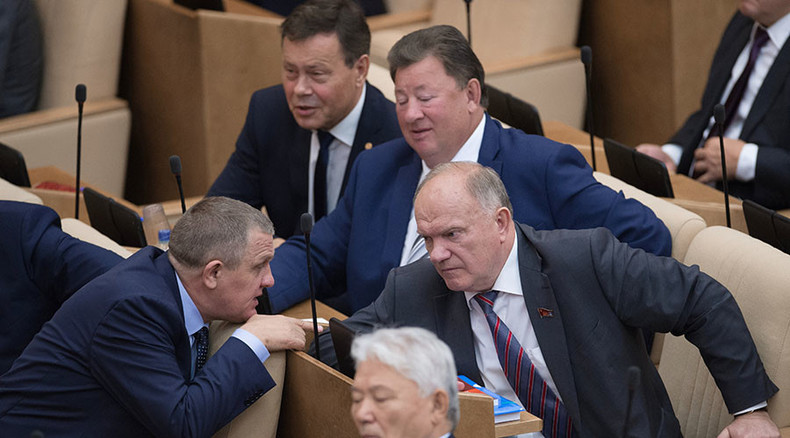 A key member of the Communist caucus in the State Duma has urged fellow lawmakers to allow the death penalty for terrorists as an extraordinary measure and "a supreme measure of social protection."
"All activities of any terrorists are aimed at murdering innocent people. They are perfectly aware of the criminal nature of their actions," MP Vadim Solovyov said in a parliamentary speech on Tuesday. "These killers must know that we will apply to them the harshest measure of social protection which is the death penalty."
Solovyov suggested that reintroducing the death penalty would help to bring down the terrorist threat in the country, adding that this threat can increase in connection with Russia's active participation in the operation against Islamic State terrorists in Syria.
"Unfortunately, I fear that the terrorist underground could step up its activities in connection with the Syria events and civilians would become their victims. Our government is guided by some Western values that are incomprehensible to me and they just cannot decide on the cancellation of the death penalty moratorium. But we need to return to capital punishment, the sooner the better," the Moskva news agency quoted Solovyov as saying.
READ MORE: Top investigator wants to restore death penalty 'as preventive measure'
The comment came a few days after Russian security services reported that they had managed to thwart a major terrorist attack in Moscow, adding that the plotters had connections with Islamic State (IS, previously known as ISIL and ISIS).
Russia introduced a moratorium on the death penalty in 1999 as it sought membership in the Council of Europe. The Constitution still allows it for especially grave crimes and after a guilty verdict by a jury court.
Many Russian politicians and officials, including the Interior Minister and the head of the top federal law enforcement agency urged to return to capital punishment as a measure against terrorists and criminals who target children. Opinion polls held in 2013 and 2014 showed the majority of people supported the return of the death penalty as an exception and for especially grave crimes.
READ MORE: Russians support return of death penalty to fight extremism and crime
In late 2013 an MP from the nationalist-populist LDPR party proposed to execute convicted terrorists, pedophiles and people who involve children in illegal drug use. The Lower House rejected the bill without a hearing.