Most Russians don't expect major protests, don't plan to participate - poll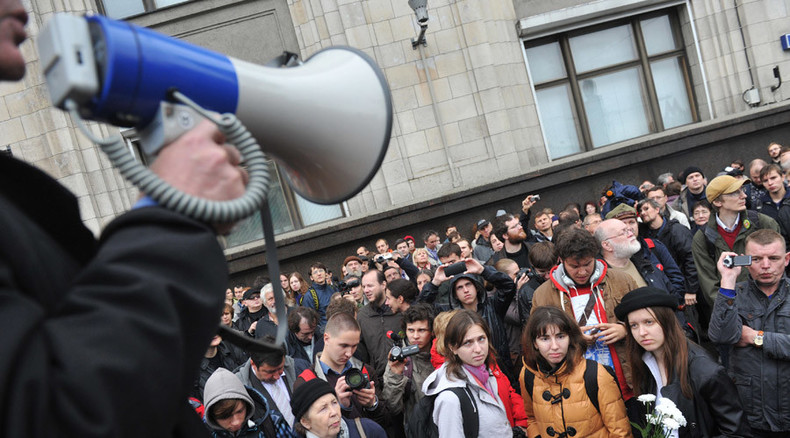 The proportion of Russian citizens who think mass anti-government protests are possible continues to fall, while those who say they would never take part in such events is constantly rising, reads the latest research by independent pollster Levada Center.
According to the research results 76 percent of Russians think that mass protests caused by the fall in living standards are currently very improbable. In April this year the share of respondents who held this opinion was 73 percent.
The share of those who expect mass protests with unspecified economic demands to the authorities was down from 20 percent in April to 17 percent in the end of August.
Overwhelming majority of Russians told researchers that they absolutely rule out personal participation in protest rallies (80 percent in late August and 78 percent in April). Those who said they were ready to protest was 13 percent (down from 15 percent in April).
READ MORE: Opposition party led by former PM Kasyanov loses regional polls
The research shows that the attitude to protests with political demands was approximately the same: 79 percent of Russians maintain that at present such protests are very unlikely (78 percent in April), 10 percent said they would personally take part in such protests (11 percent in April) and 84 percent said they had no plans to participate (82 percent in April).

The research results were published after the Russian Party of Progress – a relatively young political project backed by popular anti-corruption blogger Aleksey Navalny – had a rally in support of "rotation of power" approves by Moscow City authorities. The event is scheduled for September 20 and the activists have set the maximum number of participants at 40,000.
Earlier this month Levada Center released a research according to which half of Russians with voting rights planned to definitely participate in State Duma elections in September 2016, and 61 percent who have made their choice say they will support the current parliamentary majority United Russia party.
READ MORE: Half of Russians express readiness to vote in 2016 parliamentary poll
Ten percent of respondents said they would back the Russian Communist Party, 7 percent promised to support the nationalist-populist LDPR party, 3 percent would vote for the leftist Fair Russia party and 2 percent back the pro-business Civil Platform party.
Navalny's Party of Progress has so far secured about 1 percent of votes, on par with the nationalist Motherland and veteran liberal Yabloko.