Duma gives first nod to 'right to be forgotten' bill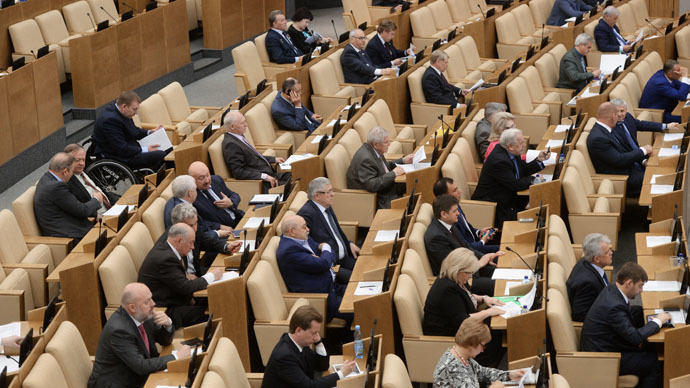 The Russian Lower House has passed in a first reading a bill that allows citizens to demand the deletion of their personal data from the web and fines for search engines that refuse to erase the false or outdated information.
The legislation, dubbed by media the right-to-be-forgotten bill, was drafted in late May by MPs representing all four caucuses of the State Duma. The bill was passed almost unanimously with just one vote against and 423 votes in favor of it.
"The information distributed through the Internet is not always following the principles of urgency and authenticity and we suggest to give the citizens the right to demand that search engines stop showing links that allow to get information about the citizens themselves," reads the explanatory note submitted together with the bill.
One of the sponsors of the bill, MP Aleksey Kazakov (Fair Russia), told reporters that the restrictions only concerned the links given out by search engines and the bill did not order to delete the data itself.
The draft reads that refusal of the internet company to do so can be contested in court, including cases when the service provider is registered abroad. If the court proves that the data questioned by plaintiff is false or outdated the search engine can be fined up to 100,000 roubles (under $2,000).
Earlier this month Russian internet giant Yandex released an open letter in which it protested against the right-to-be-forgotten bill saying that its current formula opened way to abuse. Yandex also argued that the draft violates the constitutional right to freely seek, obtain and disseminate information.
READ MORE: Counter attack: MP asks law enforcers to protect Russians from Google page counts
The authors of the draft have earlier pointed out that it is in line with the most recent decisions of European legislatures and courts. In May 2014, a court in Luxembourg for the first time gave Internet users the full right to "be forgotten" and demand the deletion of links on their personal data by search engines.
The process was prompted by the 2010 scandal in which a Spanish citizen searched his name and found an outdated 1998 newspaper article about his house being auctioned off due to debt. The man then claimed the information was no longer correct and demanded for it to be taken down. This process eventually caused Google to alter its rules and add a new tool for users to request their private information to be deleted.