Media follows a 'drumbeat narrative' on Syrian rebels, 'burying' unflattering reports
Afshin Rattansi is a journalist, author of "The Dream of the Decade – the London Novels" and an RT Contributor. Afshin Rattansi began his journalism career on The (London) Guardian in the late 1980s as one of the newspaper's youngest ever columnists. He went on to work for Britain's Channel 4, BBC, Al Jazeera Arabic, CNN International and Bloomberg Television and many other media. In the run-up to the Lehman Brothers crash of 2008, he published a collection of four of his novels as "The Dream of the Decade – The London Novels." As US pressure increased on Iran, Afshin moved to Tehran to anchor the news on the new satellite TV channel, Press TV which was later banned in Britain. He set up Alternate Reality Productions in London in 2010 making Double Standards, a comedy satire show as well as other TV news commissions. His writing has also appeared in the New Statesman; Counterpunch; The Oldie; Plays and Players; Mitchell Beazley's Encyclopaedia of 21st Century; The Journal of the British Astronomical Association; Association of Lloyd's Members Journal; Critical Quarterly; Makers of Modern Culture (Routledge, 2007); "Brought To Book" (Penguin, 1994); Flaunt; Attitude. He is a founder member of the Frontline Club in London and he won the Sony Award for outstanding contribution to international media in 2002.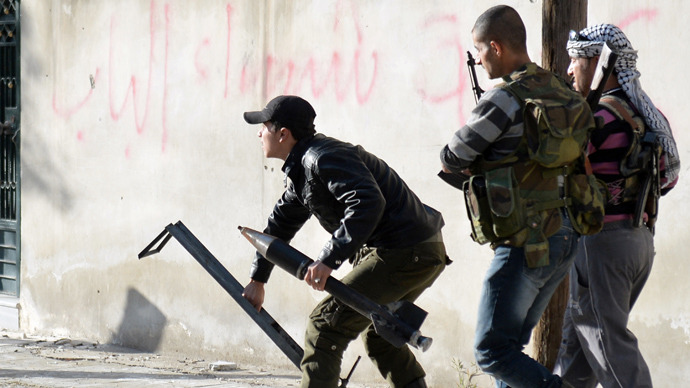 The mainstream media buried the UN commission's report on chemical weapons use by the Syrian rebels in record time, says RT contributor Afshin Rattansi, adding that John Kerry's visit to Moscow is an attempt to deflect blame for the unrest in Syria.
The meeting between US Secretary of State John Kerry's and Russian president Vladimir Putin came as US lawmakers proposed a bill that would send arms to the Syrian rebels, known as the Martyrs of Yarmouk. US President Barack Obama previously hinted that, if he can prove Syrian president Bashar al-Assad used chemical weapons, American military involvement would be imminent. 
RT: John Kerry and Russian president Vladimir Putin have been meeting for hours. How likely is it that they'll reach a consensus on Syria? 
Afshin Rattansi: Very unlikely. If it wasn't for 70,000 dead and millions of refugees created it would almost be funny, if the leaks coming out of Moscow are true. Kerry, the United States Secretary of State, is saying to Vladimir Putin that they have common interests; they both promote regional stability, and prevent the spread of extremism. 
It's difficult to know what Putin can say to the US Secretary of State because we all know, well most of the world knows, that the NATO powers have been doing exactly the opposite: not promoting regional stability and helping the spread of extremism. How have they managed to talk for these hours? Unless, presumably, Mr Putin explained to John Kerry that the only way to prevent extremism is to stop the NATO backing of rebels in Syria.

RT:If an agreement really is unlikely then why is John Kerry here in the first place?

AR: It is interesting that John Kerry has bothered to appear in Moscow at all. The United States has shown itself to be incredibly weak regarding what's happened in Syria and there's a lot of subterfuge going on.
I know in Britain, when the report about chemical weapons came out, the mainstream media has all been following the drumbeats narrative that basically it is very important for Britain to support the rebels. Even their own journalists were caught off guard. No one knew how to report the idea that the British backed rebels were using chemical weapons so John Kerry must be going there to try to explain himself and perhaps explain to Mr Putin that they aren't supplying the chemical weapons, which they have of course to people in the Middle East before, notably Saddam Hussein and the weapons of mass destruction to their client state of Israel.
RT: What will John Kerry say about the unarmed UN peacekeepers being abducted by the rebels? Doesn't that undermine the US' support of the Syrian opposition? 
AR: If only the United States people realized that. Presumably John Kerry will be telling Mr Putin about the Martyrs of Yarmouk, or whatever they call themselves, even after they've kidnapped 24 UN observers in March and kidnapped four more Filipinos. I've been to the Golan Heights and it is emblematic of US-backed Zionist policy in that regions and its emblematic to the Arab world as a disaster zone. The broken churches that I saw, still today, in the Golan Heights on the Syrian side and the green fields on the other side. It's very difficult how John Kerry will explain what to do, presumably trying to put pressure on his Islamist friends. 
I think the key here is that the American public needs to know that their government is supporting the de facto supporters, or at least very close to those, who would have supported the September 11 attacks. What we want now, really, is for the American people to start writing to their Congressmen and say the United States must stop supporting these rebels because this is not going to benefit anyone in the Middle East or the United States. 
RT: The US insisting the chemical weapons could have only been in the hands of the Assad regime, how could they have been so sure of that? 
AR: The mainstream media on all channels was so quick to criticize Carla del Ponte and say she doesn't know what she's talking about, this is a human rights commission report this isn't a UN inspector. I've never heard of a UN reporter being so cast into the rubbish dump, even by reporters. 
As to why the US press secretary in Washington is so quick, I think it's obvious they're scared. But presumably the mainstream media will bury this information and it will get all tangled up in the public imaginations of NATO countries to continue to create the impression in the minds of people that President Assad used chemical weapons and WMDs. I think it was recently reported that one great Middle East correspondent was saying he was dining with a Syrian commander who said 'We have MIG jets, why would we need to use chemical weapons?' 
And of course we now hear that the Chief of Staff for Colin Powell, the former US defense secretary under George W. Bush, this is an Israeli 'false flag' operation. That's a word usually used by conspiracy theorists, no that's the former defense secretary's man.