Ukraine must solve crisis itself to avoid bloodshed, IMF debt slavery
Published time: 20 Apr, 2014 18:39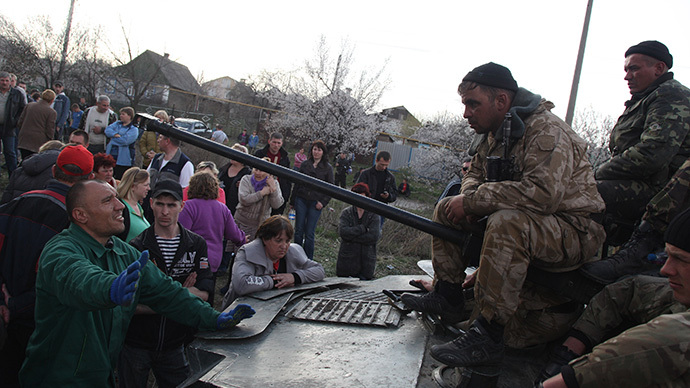 Mediation won't resolve the crisis in Ukraine, as all international players have their own interests there, Wide Awake News founder Charlie McGrath told RT, adding that only the Ukrainians can drag their country out of the current "quagmire."
The document on de-escalation – which Russia, the US, the EU, and Ukraine agreed on – is unlikely to fulfill its purpose and bring peace to the crisis-hit country, McGrath stressed.

With all the international players involved in the Geneva deal and having their own interests in Ukraine, the country finds itself "caught in the middle of an old school-style, Cold War-type battle," the Wide Awake News founder explained.

Moscow is looking for greater influence in its neighbor state because "there's a lot of wealth that's transferred to Ukraine via Russia through natural gas pipelines," he said.

"NATO wants to step up and get that much closer to Russia; they want more presence inside Eastern Europe," the journalist said, adding that Poland is already using the accession of Ukraine's Republic of Crimea into Russia "as a great excuse" to put US troops on its territory.
According to McGrath, the International Monetary Fund "is eager to get its claws into Ukraine and sap the natural resources and the natural trade routes" that the former Soviet state possesses.

What Washington really wants is "to implement austerity on Ukraine," as it keeps "dangling this carrot of foreign aid" before the coup-imposed authorities in Kiev, he said.

If financial support from the IMF arrives in Ukraine, it will only help the banks – turning the population into "nothing more than debt slaves, like we've seen in other nations throughout Europe," the journalist warned.

McGrath also reminded that the events in Ukraine "aren't an accident," with the US contributing largely to the turmoil.

"You don't need to take a journalist's word for it on RT. You can listen to Dennis Kucinich, the Congressman for the US, he pointed out on a recent interview with Bill O'Reilly on FOX News that there were quasi-government agencies that spent billions of dollars, 65+ programs to destabilize the elected government of Ukraine," he stressed.
The founder of Wide Awake News said that in achieving its goal, Washington bet on the neo-Nazi groups. He added that "there's going to be a lot of bloodshed" in Ukraine if those "questionable characters" are allowed to act freely.

McGrath believes there is not "any quick solution" to the crisis in Ukraine, which can only be resolved by the Ukrainians themselves.

"I just don't think that this is going to end any way other than the people of Ukraine taking control of their own land and electing their own government," he said, adding that the US, the EU, and Russia should be "stepping back and letting this country be sovereign and be self-determining in its governance."

The Geneva deal, which was agreed on Thursday after marathon negotiations, is aimed at defusing Ukraine's political crisis.

In addition to disarming paramilitary groups, it provides an amnesty for protesters not involved in violent crimes and the preparation of constitutional reform to provide greater autonomy for Ukrainian regions.

Ukraine remains in turmoil since the coup, which was powered by far-right radicals and ousted democratically-elected President Viktor Yanukovich in February.
The statements, views and opinions expressed in this column are solely those of the author and do not necessarily represent those of RT.