'Westminster's threats and speculation over Scottish independence are unfounded'
Published time: 25 Feb, 2014 00:15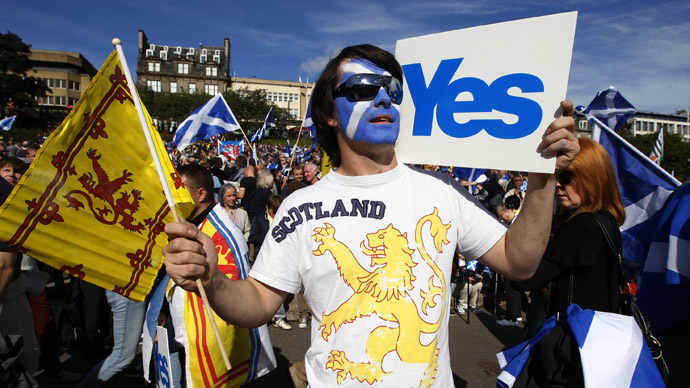 Though the UK government said that Scotland has no strong plans in terms of being independent and threatened the loss of the pound if it secedes, the nation is capable of doing so, Pat Kane told RT, adding that the UK model isn't the best one to follow.
RT:David Cameron promises to boost Scotland's oil and gas industry with projects worth up to 200 billion pounds, but only if the union stays together. Can Scotland afford to turn this down?

Pat Kane: I think what Scotland can't afford to do is not to look at the example of Norway which is just over the water from Aberdeen, where both the cabinets were today. That's an example of a nation that discovered oil at the same time as Scotland and is the same size as Scotland, and in the last 40 years has built up a sovereign wealth fund of about 450 billion pounds. In the same period, Westminster has run up a debt of 1.2 trillion pounds, so I think the example for Scotland to follow is not any advice that comes from the Cameron cabinet [but] the example of Norway as how to become a prosperous and sophisticated small nation with the full benefits of oil and gas.

RT:The UK prime minister also called Alex Salmond, Scotland's first minister, a 'man without a plan.' Do you think he's got what it takes to lead an independent nation?

PK: I think Alex Salmond has proved himself to be a fine leader of the devolved parliament, and I think he'll be a strong leader of the independent parliament. I would hardly say he's a man without a plan; the White Paper in Scotland that was brought out just a few months ago, I think is the most comprehensive blueprint for an independent nation ever published – about 650-700 pages. So there's a plentitude of plans for an independent Scotland. What we need are the tools and the powers to bring them into reality – something that isn't available passing through Westminster.

RT:A recent poll in northern Scotland (by the Press and Journal) found that support for independence had slumped to 17 percent, against 65 percent for 'no.' There's only seven months to go to the referendum – how can you turn this around in such a short time?

PK: Well, this is a strange poll because it goes against the aggregate of polls that we've been seeing over the last two or three months that actually show the 'yes' side gaining on the 'no' side by about 10 percent. It's also quite interesting in terms of the class politics of the independence vote. Aberdeen is a very rich and affluent area, and it actually looks as if the more affluent parts of Scotland aren't as enthusiastic about independence, but the poorer parts are, so I think that's quite an interesting dimension going forward. It's not just about Scotland being prosperous, taking itself into the wider world, but it's about solving its own internal problems of inequality as well. Which is a legacy of Thatcherism, Blairism, and the last several decades of the Westminster government.
RT:UK Chancellor Osborne stressed that an exit from the UK would also mean loss of the pound for Scotland. Is that going to be a sticking point for many Scottish people?

PK: I think the stand that Mr. Osborne took a few weeks ago about ruling out a negotiation on a shared currency is a bit of a bluff, because I don't think he has any interest in destabilizing his own economy, just as Scots have no interest in general in destabilizing the British economy. I think there will be pragmatic judgments after a 'yes' vote, to figure out how the two economies will coordinate and integrate with one another. Scotland could use the pound on its own of course, but the British government has to be quite careful because if it starts to say Scotland can't use the pound, then Scots can equally say that we don't take on the debt. So these are unstable arguments. I think that the strategy will be post a 'yes' to find stability between the two nations – a sensible arrangement, and I think probably a currency will happen, but it's all scaremongering at the moment to make sure that they get a 'no' vote. Wait until you see what happens after a 'yes' vote. I think it will be a sensible approach.

RT:The EU has said Scotland would have to reapply for membership in the bloc if it decides to leave the UK - and success wouldn't be guaranteed. Can the country survive without both unions?

PK: It's a strange question. Certainly Mr. Barroso – who suggested that – has his own problems in his own back yard as a Spanish politician with the Catalonians. I think it's quite strange – well, the thing is when we've got other nations coming into the European Union – Scotland has been harmonized with EU laws and regulations for the past 40 years. We're part of what they call the acquis communautaire. It would be much more difficult to rip Scotland out of the EU, and much easier to allow it to gradually harmonize and connect up its institutions and laws that are already connected up, over the negotiating period after an independence vote. So I think quite soon after an independence vote – 18 months, two years – Scotland will be fully integrated with the EU, because it's the sensible thing to do.
The statements, views and opinions expressed in this column are solely those of the author and do not necessarily represent those of RT.