'2014 looks more optimistic for Gitmo than 2013'
Published time: 20 Dec, 2013 08:26
Edited time: 20 Dec, 2013 08:26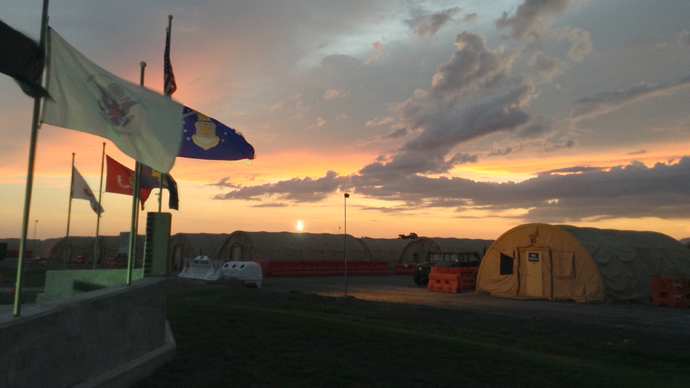 A number of detainees have been recently transferred to their home countries, which is a positive sign and signifies progress in closing down the Gitmo facilities, Morris Davis, United States Air Force officer and lawyer, told RT.
RT:There was a massive hunger strike at Guantanamo earlier this year - did it produce any results?
Morris Davis: It seems to have paid some dividends. There has been much more attention focused on Guantanamo since the hunger strike, there have been a number of detainees being transferred out, so it does seem to have produced some positive attention and some positive results.
RT:Is there anything the prisoners can do to turn the situation around?
MD: I'm not sure if they will or not. I think this is encouraging that there has been some forward progress made over the last couple of months. We've seen recently a couple of detainees went home to Saudi Arabia, a couple went to Algeria and a couple of more that are due to go to Sudan soon. There is some momentum building to begin closing down the facilities at Guantanamo. That is going to be a slow process but I think the detainees will pay attention and watch and if they'll continue to see progress, I think they can let it run its course, but I think if they feel they are forgotten again then you are likely to see another hunger strike or something of that nature.
More than a hundred of the detainees were participating in the hunger strike, it tapered off going into the fall and lately the Department of Defense said it's just not going to tell anyone what the numbers are, how many people are participating, so we are not sure exactly today what the number is. But I'm not aware of talking to the Attorney representatives of detainees if anyone suffered any permanent damage as a result of a hunger strike.
RT:What do you make of Obama's constant promises to close the detention center?
MD: He's been disappointing over the last five years. He took office on a promise to close Guantanamo and it appeared on his second day in office when he signed an order directing that it would be closed in one year, that he was going to fulfill this promise. We are approaching now five years later, since he signed that order, and there are still 160 men at Guantanamo.
If you look back at where it started, there were 245 men the day he took office and it's 160 now, so it's more than a quarter of the population that has been transferred out but there is still a way to go. As I said, there have been a number of detainees that have been transferred in recent weeks and hopefully this momentum is going to continue over to the New Year. So I have to say I'm more optimistic heading into 2014 than I was heading into 2013.
RT:As a former member of the Guantanamo military commission, why do you think Washington insists on keeping Guantanamo open?
MD: It was a mistake to ever open Guantanamo. General Leonard, who was the original Commander that opened Guantanamo back in the day, has come up recently saying that it was a mistake ever to open it. But once it's open, I think you had some that had their pride invested in it and this was the right thing to do, and one way or another we are going to make it work. It's unfortunate. And we are approaching January 11, it will be the 12th anniversary of the first detainee reaching Guantanamo and there are still 160 people there. It's an unfortunate anniversary and it's a place that never should have been opened, to begin with. And it's been open for too long now.
RT:Skeptics say Washington has other Guantanamo-like facilities. If the camp is closed, won't the US simply transfer Gitmo inmates to those jails?
MD: It's going to be interesting because the argument we have made over the last 12 years on our authority to detain people at Guantanamo and other facilities is that we are at war. And under the law of war which we have a right to detain an enemy for the duration of the conflict. But President Obama said in the State of the Union address in January that the war in Afghanistan comes to a close in 2014, so we are about 12 months out from the war officially ending, which also ends our legal authority to detain the enemy for the duration of the conflict as the conflict is over. So the administration has about 12 months to figure out what we are going to do with these individuals and I hope their decision is not going to be to try to continue their impasse at the end of the war.
The statements, views and opinions expressed in this column are solely those of the author and do not necessarily represent those of RT.