Arming Syrian rebels will fuel 'arms race' – Oxfam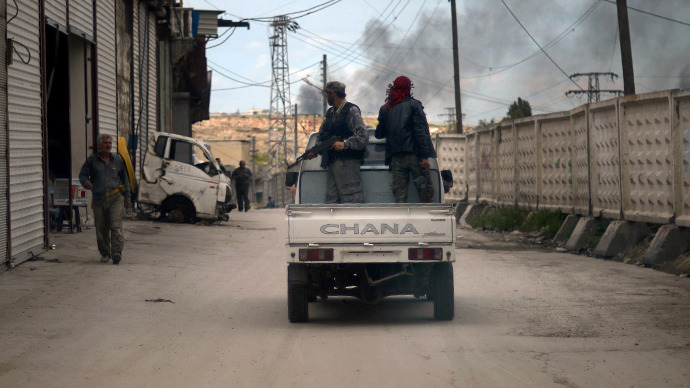 As the EU voted to halt an embargo on weapons deliveries to the Syrian opposition, the humanitarian situation may reach a critical point, Natalia Alfonso, Head of Oxfam's EU Office, told RT.
RT:Your agency has warned of "devastating consequences" if more arms are sent into Syria. What will they be?

Natalia Alfonso: Well, the consequences are quite clear. This is a conflict that has been going on two years, there are seven million people who are affected and in need of humanitarian aid within Syria…and there have been more than 80,000 deaths. So bringing in more arms and munitions (into Syria) we definitely do not see as an answer to solve the conflict.

RT:Your group has been advocating bringing the arms flow into Syria under control, warning against the risks of weapons used for the violation of human rights - why are your calls not heard?

NA: The officials last night from the EU foreign ministries, we believe that up to a point our calls have been listened to, although not followed completely. Why? Well, due to the non-extension of the embargo…We are disappointed that the arms embargo was not extended as it stands. So there was kind of a mixed message that was sent yesterday by the EU: We have good news that they are not going to do anything until the first of August, so they're giving a little bit of time. They're putting certain conditions, which is very welcome. And they are placing emphasis on a political solution, which we believe is where the EU should actually put its weight. The negative news is that they've failed to extend the embargo, and there is a risk of these arms – if they get into the country – will fuel the conflict and cause human rights violations.

RT:What risks are the UK and France running, deciding to arm the rebels?

NA: Well, it is not really them. We call for the halt of arms to all parties in Syria. We believe obviously that a political solution has to be found. This is a conflict of two years, and we don't see, really, the point of creating a level playing field. We will see that these arms and ammunition will just create more conflict and more of a risk for civilians.

RT:Moscow says the end of the EU embargo undermines peace efforts, while the UK believes arming the rebels would complement, rather than work against the peace process - what's your take?

NA: We need to ensure that all the warring parties, ensure that the civilians are protected, that they have humanitarian access to the aid that they need, and that they're protected because they are suffering the consequences of this conflict.

RT:What pressure's put on the rebels to take part in peace talks, now that they will have weapons?

NA: Well, arming the rebels will not create a level playing field, because when the rebels get their arms the government will get more arms so there is going to be an arms race more than a solution.

RT:What would Oxfam like to see done for the people of Syria?

NA: We welcome the initiative for a peace conference from Russia and the United States. The pressure is put on the rebels and we really hope they see an opportunity and they will grasp that opportunity on peace talks, not on a military confrontation that has been going on for too long with too many deaths.
You can share this story on social media: