Nobel Peace Prize jury didn't want to get too political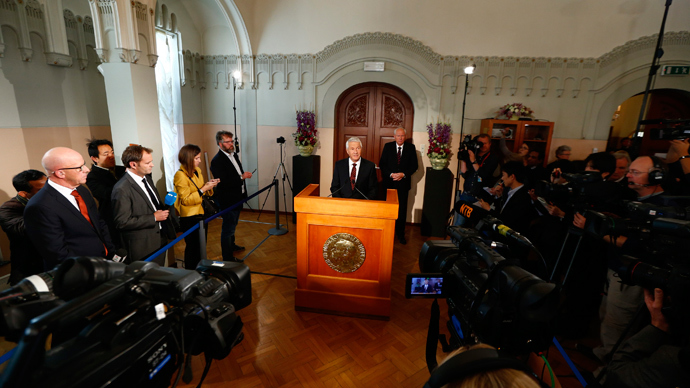 The decision to award Nobel Peace Prize to the Organization for the Prohibition of Chemical Weapons was an easy one, because the jury "chickened out," and decided not to be too political, author and Russia analyst Martin McCauley told RT. 
The organization responsible for destroying stockpiles of chemical weapons in Syria has received this year's Nobel Peace Prize for 'extensive efforts to eliminate chemical weapons', the Nobel Committee announced in Oslo on Friday. McCauley believes this was an easy decision. 

RT:How did the Organization for the Prohibition of Chemical Weapons managed to beat 258 other nominees for this year's Nobel peace prize?
Martin McCauley: I think they found it difficult to award it and when the chemical weapons agreement came up it was always a number one, because it's a greatest step forward in this year. It could slow down the civil war in Syria and could in fact make it less nasty, so therefore they took the easy decision to in fact give it to the organization which is there trying to eliminate the chemical weapons which is a step forward after all for mankind.
RT:What's your assessment of Russia's role in helping make the chemical disarmaments deal possible? 
MM: I think that the committee chickened out, because they should have awarded it to President Putin because he originated the discussions with President Al-Assad. If they didn't give it to him, why not give it to Sergey Lavrov and John Kerry who negotiated the deal. They are high-profile politicians. But they seem to have taken the decision that that was too political. Don't get involved in the politics of Syria, but get involved in eliminating chemical weapons; it's an easy decision which was to go for the organization. They said that President Putin's nomination came too late and he's being considered for 2014, but by 2014 hopefully most of the chemical weapons would have been eliminated.
RT:The chemical weapons watchdog has never been tasked with disarming a country gripped by civil war, plus it's also been given the toughest deadline yet - summer 2014. How realistic is all this?
MM: It's a wish list. They have to put some date and they put it for next year, but because they have a war zone some of the chemical weapons may be in rebel-held territory, and how do you access those? The rebels would say they don't have any, but obviously the organization will have to verify that. That will be very tricky, because they will have to negotiate with rebels and how many rebel groups are there? There are dozens of them. This is a very difficult decision for them, because previously the organization always operated in a peaceful zone. This is a first time they really got involved in a middle of a civil war and it should be a challenge for them. They may in fact put a hundred people in there. How many, one hopes they are secure, and they will actually get on with the business of eliminating the weapons, but it will be very difficult. The first task is to eliminate the wherewithal to make weapons, then get the chemicals, take them out of Syria and destroy them. This is to be a long process; no one really expects a hundred per cent of the weapons to be eliminated by the middle of the next year, and even by the end of next year.
RT:If Syria does indeed destroys stockpiles completely. Do you think the countries in the region for instance like Israel will be inclined to follow suit?
MM: No, Israel will not agree to it because they will argue that their enemies have chemical weapons and therefore they must keep theirs. Russia, the United States and China also don't belong to this convention; because they are going to keep chemical weapons on a basis that others have them and they might use them against them. So they follow the idea that the best security against an attack by chemical weapons is to have our own. On the other side, they would pay a very heavy price for the use of chemical weapons; they will suffer twice as much. The best security which the large powers such as Russia, Israel, China, and United States have is the policy with they adopt.
The statements, views and opinions expressed in this column are solely those of the author and do not necessarily represent those of RT.