Foreign actors promoting Mali election credibility in spite of ongoing turmoil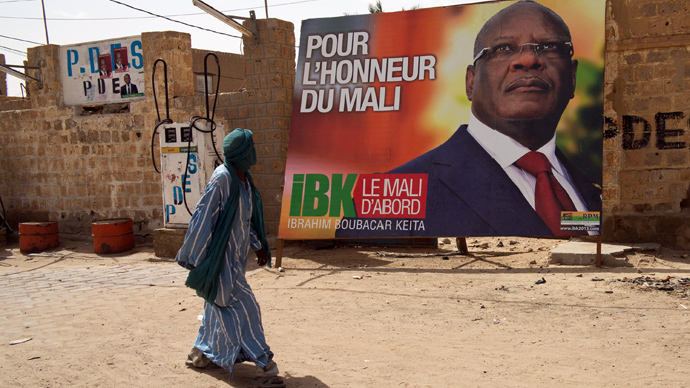 As campaigning finishes ahead of Sunday's poll and Mali gears up for its first presidential election amid an 18-month fight against a crippling insurgency, questions remain as to whether the country is ready to usher in a new era of peace and stability.
Editor of Pan-African News Wire, Abayome Azikiwe, told RT that outside interests – especially those of the French and the United Nations – could be hasty in their desire to portray the event as a sure democratic path to recovery, given the damage that still remains 18 months after a coup – which was supposed to have a positive effect - exacerbated the country's political situation.

RT:Is Mali ready to hold these elections?
Abayome Azikiwe: I believe these elections were rushed. They were done largely at the aegis of France, as well as the economic community of West-African states, the UN as well - which is bringing in its peacekeeping force and also pushing for elections. They want a so-called legitimate government in Bamako – the capital – so they can continue with their operation. I think here are dangerous landmines that could result as a result of this election for this simple fact there are so many people outside the country as well as internally displaced persons. It's going to be very difficult to have a huge turnout - and also the lack of resources as well. There's still a lot of conflict going on inside the country.

RT:Will the vote be credible in the end, with everything you have mentioned?

AA: It depends: credible by whom? Inside the country, it'll probably lack a great degree of credibility. I'm sure the United Nations will put its stamp on the credibility of the elections. Perhaps the regional economic community of West-African states [as well]. It remains to be seen exactly how much credibility it's going to have inside the country.

There are 27 candidates that are contending the first round of the election: 26 men, one woman. Four of the people involved are former prime ministers: Ibrahim Boubacar Keita, Cheick Modibo Diarra, Modibo Sadibe, Soumana Sacko – all have been involved at a high level in Malian politics. But there's still conflict going on. In fact, just a few days ago, there were conflicts between separatist NLA and other forces inside the country. We can only hope that it won't result in increased tensions as well as conflict.

RT:Given the background you've just highlighted, do you think the EU is right to insist for this to go ahead in order for the aid to start flowing?

AA: I think it's an incentive in that regard. France, which carries a lot of weight in the EU, is looking for a mechanism to exit Mali – they intervened in January of this year. They had approximately 6,000 troops on the ground. Now there are about 4,000 French troops. They feel that this election can present some type of credibility for the incoming government, as well as the United Nations presence. They can accelerate their exit from the country. They still plan on having some 1000 French forces even by the end of 2013, so it remains to be seen whether the situation will stabilize or not.
RT:A lot of the candidates you mentioned have served in high-ranking positions before. With all the trouble Mali has been through lately, are they really the right people to bring change and stability?

AA: Many people inside the country don't feel that is the case. What happened last year was extremely tragic. The elected government of Amadou Toumani Toure was overthrown by US-trained military official captain Amadou Sanogo, and he claimed he overthrew the government because it was ineffective in dealing with the Tuareg separatist movement in the north. However, after the elected government was overthrown, the rebels in the north expanded their influence in the country which precipitated the French intervention. So it's going to be a very difficult situation for any incoming government in Mali, given the damage that has been done over the last year-and-a-half.

RT:Given all this – and that more peacekeepers are due in the country – when can it be that Mali will be able to stand on its own two feet?

AA: There has to be a method of national reconciliation inside of Mali. The country has tremendous potential in regard to tourism - they have gold, they have uranium as well as oil prospects inside the country. So it depends upon the various political forces inside the country. They have to resolve the national question, which has been haunting them since independence in the 1960s. If these issues can be resolved, the country can be put back on the road to prosperity, stability, and development.

The statements, views and opinions expressed in this column are solely those of the author and do not necessarily represent those of RT.