Terrorists running Libya getting rid of 'old friends', turning them over to the US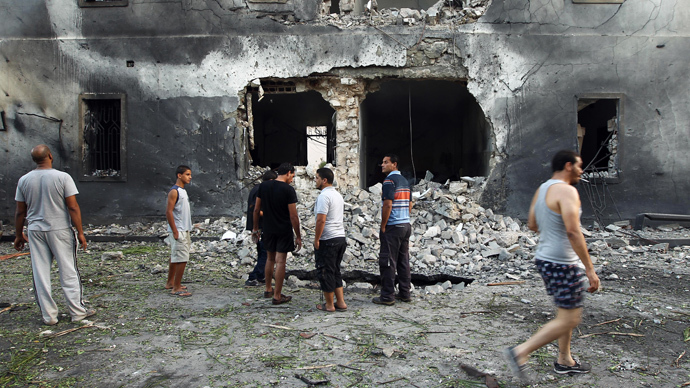 Despite their claims, Libyan authorities should have had direct knowledge and hand in surrendering suspected Al-Qaeda leader Abu Anas al-Liby to US authorities, defense consultant Moeen Raoof told RT.
While Libyan authorities voiced their concerns over the "kidnapping" of a Libyan citizen, indicating they had nothing to do with the operation, US Secretary of State has justified the capture by US forces of the terrorist suspect in Tripoli as "legal and appropriate."

Raoof further speculated that al-Liby could be behind a number of assassination plots and even a recent attack on the Russian embassy, the details of which the current government of Libya was trying to hide by getting rid of "old friends." 
RT:Why didn't the US work together with the Libyan government - the very government it helped bring about? 
Moeen Raoof: Exactly. They could not have carried out this operation without the knowledge of Abdul Hakim Belhaj who is the leader of the Libyan Islamic fighting group which Abu Anas al-Liby is a member of. So they could not have carried out this operation without the direct knowledge of this emir of Tripoli. So that sounds pretty false to me. 
RT:Secretary of State John Kerry defended capturing al-Liby as a "legal and appropriate target." What puts al-Liby in that category? 
MR: They claim that under 2001 US law, they can capture anyone anywhere in the world. They can enter any sovereign territory and arrest anyone.

What is amazing about this story really is that this individual lived in the UK in the 90s. He was also involved in the attempted assassination of Hosni Mubarak, the then president of Egypt. He was also allegedly aided by Britain's MI6, the intelligence service, to assassinate the revolutionary Muammar Gaddafi, the then head of Libya. During all this time he was given political asylum in the UK.  He also found time to plan bombings of Tanzania and Kenya.


RT:If all of this is true and he is on their side, why the turnaround now then? 
MR: It seems that they are getting rid of the individuals that are no longer useful. I remember Abdul Hakim Belhaj the militant leader of LIFG, the terrorist group who is in control of most of the Tripoli now, has been noted as a great politician.

There's no government in Libya at the moment and most of the cities are being run now by either tribal heads or terrorist leaders like Belhaj. It seems that they are getting rid of people and he is probably linked to the attempted bombing of the Russian embassy last week. So they are getting rid of foes that were friends earlier. 
RT:You touched upon it. America has been recently talking about "exceptionalism." Has this happened here again? 
MR: It has. Remember they had two operations simultaneously, one in Somalia, which apparently failed on a grand scale, and also in Tripoli. So they could not have operated in Tripoli without Belhaj's involvement. Remember Belhaj has been sending personal to Syria to fight against Assad and the sovereign government of Syria and supplying arms as well. So they have been cooperating with the Americans since the fall of Gaddafi in 2012. Obviously they feel that their 'exceptionalism' can take place anywhere, which it does, because they've tried this in Somalia and Libya now.