Khodorkovsky not Mandela, more like 'another Berezovsky?'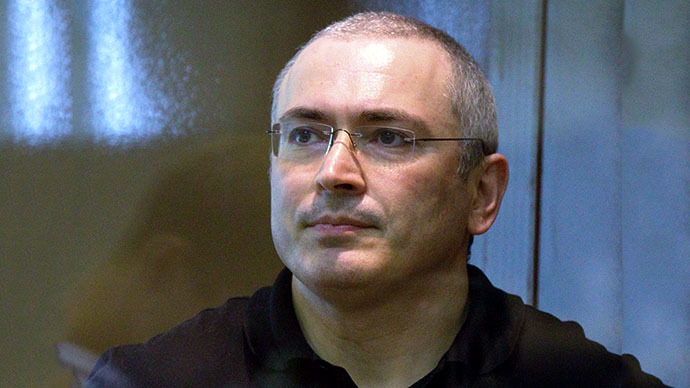 ​Khodorkovsky is being used by Western media to slander Moscow's policies, was one of the opinions voiced by analysts following former oil tycoon's release, as RT asked experts if the man could pose a threat to Russia, considering his criminal past.
The motivations behind his release are still being discussed in the light of his transit to Germany, where Mikhail Khodorkovsky arrived following his pardon and release on Friday. However, the view that it was a PR stunt before Sochi has swiftly been rebutted. "I don't think he had anything to do with Sochi, nobody was going to stay away from Sochi because of Mr. Khodorkovsky being imprisoned. As to the amnesty law, it didn't apply to Khodorkovsky," said legal expert Alexander Mercouris.

"Mr. Khodorkovsky did what he had previously consistently said he would not do. And that is that he wrote a letter to Mr. Putin asking for a pardon and did so secretly, cutting out his lawyers," Mercouris added. The reasons for his decision to head to Germany have also become the subject of debate. "I don't know why he would chose to go to Germany, but I don't think he'd want to stay in Russia, that's my personal view. I think he'd want to go to somewhere in the West. Maybe Germany is the easiest place for him to go," said Mercouris.

A positive reception in the West could be bolstered by the image created of him in the Western media. Analysts warned of idealizing Khodorkovsky purely because he's a 'nuisance' for the Russian government.

"The more you examine the history of Khodorkovsky, with business partners suspected of being murdered...I don't want to slander the man, but there are all sorts of very shady things in his past going well back into the 1990s and the Yeltsin era," said investigative journalist, Robert Harneis.

"Anybody who tries to set Khodorkovsky up as a new Nelson Mandela is going to have some work on his hands." Mercouris said referring to his past misdemeanors.

"There have been six or seven decisions by the European Court of Human Rights (I've lost count on how many there are), which have said that unequivocally Mr. Khodorkovsky is guilty of massive tax evasion on an enormous scale," said Mercouris.

In asset manager Eric Kraus' opinion, the signing of the pardon was a mistake. Kraus believes Khodorkovsky's self-perception is slightly askew. "He seems to have forgotten the murderous, thieving activities of the 1990s, and sees himself as a saint," said Kraus.

"I think by freeing Khodorkovsky, they create another Berezovsky – a multi-billionaire who is going to be conducting a campaign of denigration of Russia internationally," he said. The question of whether he could still pose a real danger to Russia has been on the lips of analysts.

"Khodorkovsky has not made it easy for the Russian government by his constant agitation. He is still a very rich man," said Harneis. "I don't think it's the last we'll hear from him...he is no longer dangerous. He might be a nuisance, but he's not the danger he could have been in destabilizing Russia."