Come celebrate 500 Episodes of Keiser Report on RT's Google+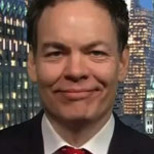 Max Keiser, the host of RT's 'Keiser Report,' is a former stockbroker, the inventor of virtual specialist technology and co-founder of the Hollywood Stock Exchange.
It's 500 Episodes of the Keiser Report. Stacy Herbert and I are going to celebrate it with Google hangout.  
We'll be taking your questions on September 19, at 18:00 GMT on RT's Google+ page. 

You got a problem with that? Then don't show up! If you want your questions answered - then join us!
Google hangout, September 19, 18:00 GMT. That's 500 Episodes of Keiser Report. See you there.
The statements, views and opinions expressed in this column are solely those of the author and do not necessarily represent those of RT.