'Italy voting results disappoint both eurocrats and eurobankers'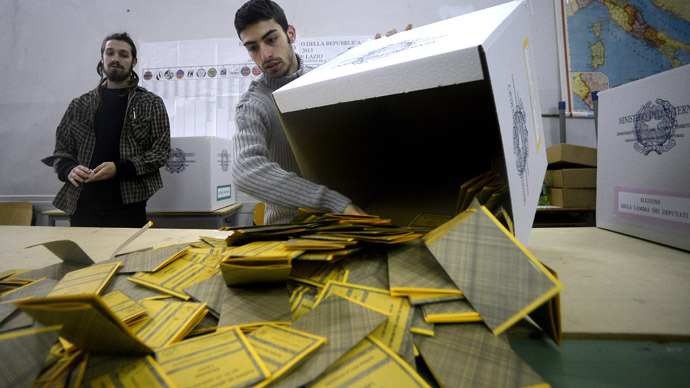 No party won a parliamentary majority in the Italian elections, making neither eurocrats nor eurobankers happy. The impossible in Greece and Spain was possible in Italy, with big wins by an anti-system party, analyst Dr. Alessandro Politi told RT.
"Eurocrats are not happy. It is a fact that austerity hasn't profited anybody except large financial groups. Austerity is a way of milking guaranteed money in exchange of derivatives that don't have any guarantees. They are not happy because what they have tried to stave off in Greece and Spain happened in Italy," Politi says.
The latest projections of the Italian parliamentary election results show center-left Bersani taking the lead with 29.55% for the lower house and 31.63% for the upper house, while closely followed by Berlusconi with 29.18% and 30.72% of the votes respectively. Beppe Grillo's anti-establishment Five-Star Movement is at 25.54 percent in the lower house and 23.79 percent in the Senate, the projection says. Former PM Mario Monti's coalition is expected to garner only 10.56 percent in the lower house and 9.13 percent in the Senate.
"Beppe Grillo is a demagogue and his program is weak, but he is channelling protest moods which are strong. If there is no serious reform in Italy we will have another revolution, an Italian spring," Politi points out. "Eurobankers are not really happy too. Markets will continue their assault if they are not stopped by a concerted European action," Politi says.
The expert hopes the European Central Bank President Mario Draghi and other intelligent decision makers will understand that "the time to always say 'Yes' to private financial pressures has ended."
"Governments must retake economies in their hands, meaning democracies should control markets, not the other way round. But the statements that Italy is in chaos or going bankrupt are just economic propaganda," Politi concluded.
Election 'surprise'
All in all, the results of the vote, which left the center-left bloc with a majority in the lower house but without the numbers to control the powerful upper chamber, the Senate, must have surprised each of the four main political protagonists, Politi believes.
"First, [Mario] Monti, thought to be the kingmaker and he isn't. Second, [Pier Luigi] Bersani, who thought he could win, but this is an old problem with the democratic party: too self-assured during the campaign and weak at communicating with potential electors. Then [Silvio] Berlusconi, who did everything to come back, but lost millions of voters compared to the last political election. And finally Beppe Grillo, who thought he would get in, but didn't want to foresee he'll have to do something serious," Politi told RT.
All moderates have been wiped out of the parliament and there is no doubt that the actual Italian coalition in the lead is leftist, according to the expert. The bigger problem is the Senate, believes Politi.
"Eyes are on Bersani and Grillo. Mister Bersani has to negotiate very hard to take a majority in Senate. And now it's a dilemma for Grillo, he never got an opportunity like he has now. If they get him on board, and maybe Monti, they would have a stable majority," he says.
Another apparently positive scenario could be a big agreement between Bersani and Berlusconi, but that would be "a perfect pretext for another financial assault against Italy". Besides, the expert reminds, "Berlusconi is known as a specialist to kill his own allies".
Grillo's 'dilemma'
The recent election saw the dramatic surge of the anti-establishment 5-Star Movement of comic Beppe Grillo. Now he is facing a tough choice.
"He has two paths. First is soft revolution, where he does not go to government and waits until the crisis gets worse and worse, until next election where he will be poised to take power sweeping away the two old parties. But this would be hard for ordinary people, they will continue to suffer from austerity," says Politi.  Besides, this scenario would be risky for Grillo's reputation. "His party is utterly unprepared for the world scene. He gives appalling interviews, showing a lack of preparation and international communication," the expert argues.
"The other way for Grillo is to take on responsibilities, and get experience in the government showing his party can deliver solutions," says Politi. "This is a more responsible strategy with its own risks, because he will have to convince other electors that his party is the future despite the populist image of its leader."
The worst case scenario is if the center-left Democrats (PD) and center-right The People of Freedom party (PDL) form a coalition.
"This would disappoint a lot of people in left wing parties and would exclude people of the extreme left. It would confirm in the eyes of the wider public that there is a political elite that does not want to change the system and does not take into account the views of the people. This happens in many advanced democracies, where you have different parties but no difference between them, as everything is decided by money and budget. This could trigger an explicit vote of protest, which would be the worst case scenario," says Politi.