Iran to take much tougher position in nuclear talks after 'France's sabotage'
Tehran will be "very skeptical" about the intentions of the six world powers during next week's P5+1 talks in Geneva, after the initial text of a deal on Iran's nuclear program was "gutted" following objections from France, historian Gareth Porter said.
The six world powers are gearing up for yet another round of talks with Iran to curb its nuclear program on November 20. The previous round, which took place last weekend, failed to strike an accord limiting Tehran's uranium enrichment in exchange for an easing of Western sanctions.
US Secretary of State John Kerry blamed Iran for the failure, saying the six world powers were unified on the nuclear deal, but that the Iranians were unable to accept it "at that particular moment." He denied reports that the US and France had differences regarding the agreement, saying that "the French signed off on it, we signed off on it."
Iran pointed the finger at Western powers. The country's foreign minister, Javad Zarif, said on Twitter that "No amount of spinning can change what happened within 5+1 in Geneva from 6PM Thursday to 545 PM Saturday. But it can further erode confidence."
He also appeared to blame France for "guttering over half of US draft."
Still, Zarif said on Friday that he was hopeful ahead of next week's fresh talks. "It is not possible to drive ahead without hope," he told Fars news agency, as cited by AP. "Of course, hope doesn't necessarily mean going without open eyes," he added.
Zarif reiterated Tehran's demand for its rights to nuclear energy. "Any agreement that does not recognize the rights of the Iranian people and does not respect these rights has no chance."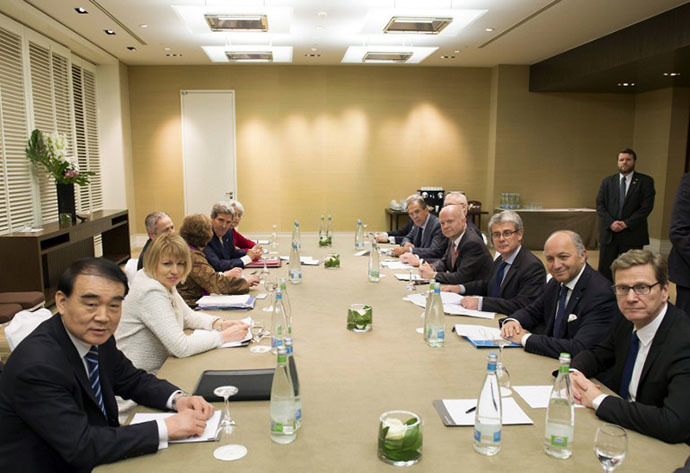 Meanwhile, another political battle has unfolded in the US, as Congress debates whether to impose additional economic sanctions against Iran. Israel - America's key ally in the region - dispatched its economy minister, Naftali Bennett, to Washington to lobby for the sanctions.
However, US President Barack Obama sought on Thursday to convince Capitol Hill hard-liners to go forward with negotiations with Iran and to not impose new sanctions.
RT spoke with historian and investigative journalist Gareth Porter about the possible outcomes for the nuclear talks and America's role in the negotiations.
RT:Pleas from John Kerry and Joe Biden haven't gained much traction among some Congress members. What kind of impact do you think Obama's speech will have? Do you think it could ensure that no further sanctions are imposed?
Gareth Porter: No, I don't think the president's statement or speech is going to hold off the members of the Congress who are determined to go ahead with this move. The question is whether they will be able to muster a majority in the Senate. I think the House is more likely to be responsive to Israel's urgings on this and is most likely to go ahead with sanctions. But I think the Senate may possibly constitute a rollback to going ahead with much harsher sanctions. By which I mean there will be sanctions from which the legislatures have stricken any reference to national security away, or taking away the last bit of responsibility that President Obama would have.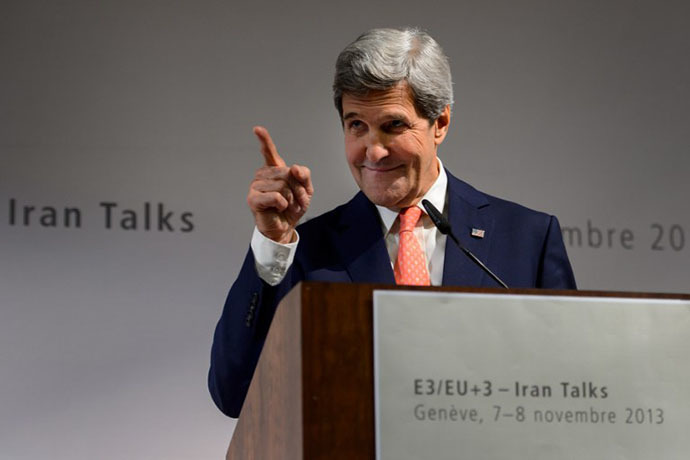 RT:So this is all about Israel then? These members will push through with what Israel wants?
GP: This is the track record that both the majority of the Senate and the majority of the House have compiled in recent years, which is to say that they have been responsive whenever the AIPAC, the lobbying organization devoted to Israel, has put forward legislation. The majority in both Houses of Congress have been responsive. I think that definitely has to be the working assumption for this week.
RT:If the sanctions are imposed, will Iran likely say they are not going to talk any further? Is it realistic to believe the White House would then begin considering military action?
GP: I don't think it's realistic that Iran is simply going to walk away from the table. But it is definitely realistic to expect that Iran is going to take a much tougher position in the talks next week than they did in a last round. After all, Iran was under the firm impression that they had an understanding and agreement on a text with the United States.
As Foreign Minister Mohammad Javad Zarif tweeted in the last 40 hours - from late Thursday of last week to late Saturday - is that he was turned upside down. He claims that as much as 50 percent of the text they agreed upon was essentially gutted, as he put it, by the objections coming from France, in particular. So definitely the Iranians are going to be very skeptical about the intentions of the six powers in these negotiations. They are going to insist on guarantees that it will not happen again. Obviously, they are going to insist that the text be returned at least substantially to what was before this sabotage took place over the weekend.
RT: The White House is saying to members of Congress that military action could be possible if diplomacy fails. Do you think Washington will stand behind that statement?
GP: There is grandstanding in the United States. I can guarantee that the United States is not going to war anytime soon over Iran. I don't think they will ever go to war over Iran, but certainly not in the present circumstances. The US military certainly exercises very powerful influence over the policy of the White House on this, and the Pentagon and the military service heads are adamantly opposed to the US going to war. They don't see any reason to do so under present circumstances.
The statements, views and opinions expressed in this column are solely those of the author and do not necessarily represent those of RT.
You can share this story on social media: