Three reasons why Shinzo Abe's visit to India is a game changer
Published time: 29 Jan, 2014 15:18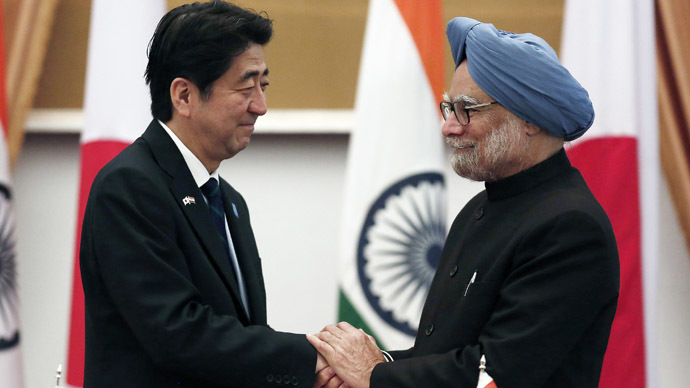 Three major concrete deliverables emerged during Japanese Prime Minister Shinzo Abe's state visit to India, and in all three China is revealed to be a Shakespearean Banquo's Ghost in the India-Japan discourse.
First and foremost, the India-Japan Global and Strategic Partnership, which hitherto was largely confined to Japanese assistance in infrastructure projects in India, is now set for a push in the political aspects of the bilateral relationship with security and strategic overtones. This is clear by the decision of the two prime ministers – Abe and his Indian counterpart, Manmohan Singh – to have an institutionalized mechanism of regular consultations between the two sides' national security advisors. Unlike India, Japan does not have a post of National Security Advisor; therefore, the Secretary-General of National Security Secretariat of Japan (the equivalent of India's NSA) will be the point person for holding talks with the Indian NSA.
Two, India has taken an unambiguous position for the first time on the recent Chinese policy of declaring an Air Defense Identification Zone (ADIZ), which has been stiffly opposed and defied by powers including Japan, South Korea and the Philippines. A joint statement released at the end of delegation-level talks between Singh and Abe in New Delhi on January 25, clearly stated: "The two Prime Ministers underscored the importance of freedom of overflight and civil aviation safety in accordance with the recognized principles of international law and the relevant standards and recommended practices of the International Civil Aviation Organization (ICAO)."
This is a bold foreign policy move by the Indians, especially when China had clarified shortly after its introduction of the ADIZ dispensation that India was out of its ambit. It shows that New Delhi has finally mustered enough gall and courage to side with Japan at the expense of China on the ADIZ controversy. In a sense, this is India's way of squaring up with the Chinese for the discriminatory Chinese policy of issuing stapled visas for Indians domiciled in the Indian states of Jammu and Kashmir and Arunachal Pradesh. By the stapled visas policy, the Chinese had taken sides with Pakistan at the expense of India.
Three, India and Japan decided to put a deeper emphasis on military-to-military exchanges and joint exercises and prepared an ambitious roadmap in this regard. Singh and Abe underscored the importance of such exercises and decided to hold these with increased frequency. Indian Navy (IN) and the Japan Maritime Self-Defense Force (JMSDF) held the second bilateral exercise in December 2013 off the coast of Chennai and will now have its next edition in the Pacific Ocean in 2014. The focus on the Indo-Pacific is unmistakable. Abe has been a vocal supporter of India's increased presence in the Pacific – another red rag for China.
Besides these three concrete deliverables off the Singh-Abe talks on January 25, it is work in progress on two other recent high points in the India-Japan narrative: Japan's sale of US2 amphibian aircraft to India and a civilian nuclear cooperation agreement.
On the former, the two sides have already held the first meeting of the joint working group in New Delhi in December 2013 and the second meeting of the group is scheduled to be held in March 2014 in Japan. This is for the first time that Japan has agreed to sell an equipment of potential military use to a foreign country.
On the latter, the two prime ministers "directed their officials to exert further efforts towards an early conclusion" of the nuclear deal, the joint statement said. These are tricky and complicated negotiations and will take months, possibly years, for signing the nuclear deal.
Indo-Japan relations have gone from strength to strength in recent years. In fact, Japan is the only country in India's foreign policy outreach in the past one decade with which India's relations have constantly been on an upswing. Not even Russia, India's closest and traditional strategic partner, can boast of this track record.
India's relations with Japan have begun to take the flavor of India's relations with Russia and the US where the two sides are cooperating on virtually everything under the sun – defense, energy, nuclear, trade, investment, science and technology, infrastructure, health, people-to-people contacts, railways, cyber security and tourism, apart from political and strategic issues.
Abe's visit was preceded by a visit to India by Japan's Emperor and Empress (November 30-December 6), the first ever in the 2,600-year history of the monarchy in Japan. This was followed by Defense Minister Itsunori Onodera's visit to India last month – the first such visit by a Japanese defense minister. India's defense minister will be traveling to Japan later this year.
The increasing India-Japan bonhomie will be a headache for China and a major succor for the United States. India, Japan and the US have been having a Trilateral Dialogue on security issues since November 2011.
China cannot be oblivious to the fact that Japan and India (Asia's number two and three economies, respectively) are getting closer at a time when Abe is trying to restore 'Japan's pride," not unlike what Vladimir Putin has done for Russia. Abe has recently declared the "Restoration of Sovereignty Day" to mark April 28, 1952 (the date when the Allied occupation after Second World War ended); changed Japanese post-war constitution's pacifist nature by reinterpreting Article 9; and introduced a highly controversial national secrecy law.
Rajeev Sharma
The writer is a New Delhi-based columnist and a strategic analyst who tweets @Kishkindha. He can be reached at bhootnath004@yahoo.com.