'EU should use surveillance drones to keep out illegal immigrants' – Belgian MEP
Published time: 24 Oct, 2013 17:17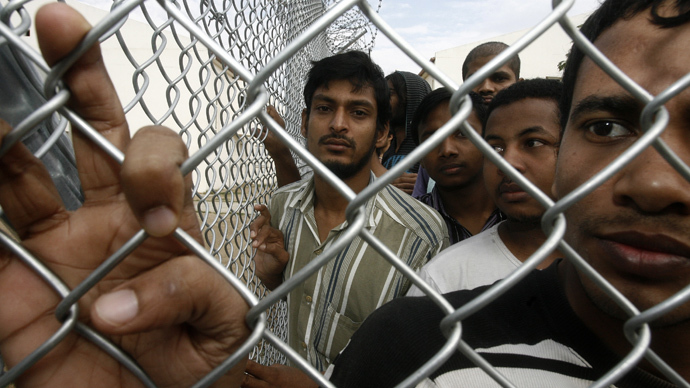 The EU needs a "stricter immigrant policy, so that refugees realize there is no use trying to risk their lives for something they won't get anyway with."
That's the controversial view of Philip Claeys, a Belgian member of the European Parliament from the Vlaams Belang far-right political party, which condemns immigration and opposes the federal unity of Belgium. He explained his view to RT.
RT:Italy's prime minister wants Friday's EU summit to address the migrant issue. Italy wants that burden to be shared among other EU member states, and obviously wants the EU's asylum laws to be overhauled. What kind of reaction can we expect from other EU members?
Philip Claeys: I think many EU member states are aware of the problem and are willing to contribute to the burden that's caused by the need to control the southern borders and also the eastern borders of the European Union. But I think we have to make a good agreement about who is going to do what. I think everyone is aware of the seriousness of the problem and when we have the European Union with no internal border controls anymore, it's in the interest of the all other member states to see to it that the external borders are being controlled.
RT:But the situation in the Middle East and North Africa does not seem to be improving anytime soon. Who should be helping these millions of displaced people if the EU closes or controls its borders or whatever you say?

PC: I think we have to see to it that people that are real refugees should be helped in their own region. That would be the most ideal situation because it's just not possible for the EU to accept all the refugees coming from Syria, from Sudan, from all these countries that have serious problems. We cannot just have them all coming to the European Union. What we should do is help these countries, help these regions to accept refugees there, to help refugees there so that they can go back to their own country as soon as possible, as soon as the problems are under control.
RT:Right. It's interesting that on Tuesday the EU's foreign affairs chief Catherine Ashton said that the EU should use military grade drones for the borders surveillance. What do you make of this suggestion and could it strengthen border control?
PC: I think this is a good suggestion. It is not a new suggestion, of course, because  when we are talking about Frontex  and EUROSUR, that are our systems that are being developed right now to make the border control, in the Mediterranean especially, more efficient. And this is about radar, this is about satellite images, and this is about drones as well. Every technological possibility should be used to control borders, to combat illegal immigration, and at the same time this could also help to save lives because when we can see at an early stage that people are trying to cross the Mediterranean in boats that are just not seaworthy, then we could have an alert and ask the coastguards of the southern Mediterranean countries to intervene directly. And I think this is a good way to help save lives quickly.

RT:But don't you think there is a danger that tougher asylum and immigration laws would prompt protests from migrants across Europe? We are already seeing this in the UK where was a mass raid against immigration raids in London, for instance.
PC: We should adopt a more strict policy in the member states, because one of the main reasons why so many people are risking their own lives to cross the Mediterranean is that, even when they do not qualify as refugees, and even if they know that they don't have a chance of being recognized as asylum seekers, as refugees, most of them can still come to Europe as illegal immigrants, and they are not sent back to their countries of origin. If we adopt a more strict policy, if they realize that it wouldn't help by crossing the Mediterranean and risking their lives in the process, then they wouldn't actually cross the Mediterranean. That is the point where we should get. People who are not refugees, people who are just economic refugees, they do not qualify and we should send them back to their own countries. If we do that, they would realize there is no use trying to risk their lives for something they won't get anyway.

The statements, views and opinions expressed in this column are solely those of the author and do not necessarily represent those of RT.