No progress ending Guantanamo hunger strike or prisoner transfers since Obama speech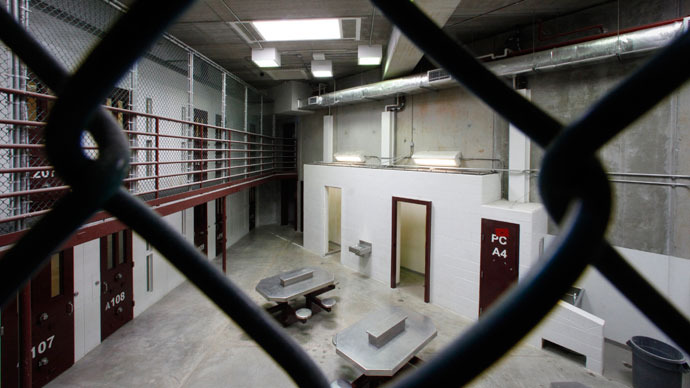 President Obama announced his intention to resume cleared prisoner transfers out of Guantanamo Bay in May. However, according to Lt. Col. Barry Wingard, who represents several detainees, no efforts have been made so far that he can see.
Wingard, an Air Force officer with the Judge Advocate General (JAG) office, recently met with one of his clients to mark his 37th birthday, and eleventh year at the prison without charge. Speaking via phone from Guantanamo Bay to RT, Wingard says that no effort has been made so far to end the hunger strike, and a recent vote by Congress to block funds for the closure of Guantanamo means the situation is as bleak as ever.

RT:This vote by the House of Representatives must be a massive blow, not just to hunger strikers but to you and all those who represent them. You might as well give up now?

Barry Wingard: No. We're not going to give up, so long as men are imprisoned in Guantanamo Bay we're not going to stop fighting on their behalf. On Tuesday, yesterday, we spent with my client, Fayiz Al-Kandari, a Kuwaiti, we spent his 37th birthday here at Guantanamo Bay. He's been at Guantanamo Bay 11 and a half years, a third of his life. We're not giving up. Part of our discussion focused on the House vote today, when we met. And he asked me, "Hey, what kind of people vote to fund a prison that's 95% full of men who haven't been charged with a crime after eleven and a half years?" And I have to tell you, I had no answer for him. It is a mystery to me what kind of person says "We don't care if you've done anything, you're staying in Guantanamo Bay."

RT:So, although no plans declared to close the prison, what's happened recently doesn't give you any optimism whatsoever for those who are cleared for a release to be released?

BW: Well, you know, Guantanamo Bay stands for the proposition that it doesn't matter if you did anything or didn't do anything. In fact it's the opposite. If you are in fact accused of something you might get a trial, but in Guantanamo Bay it is a world in reverse, whereby if you've done nothing you get nothing but indefinite detention in a well-funded prison from Washington.

RT:Now, in his recent speech Obama made it very clear he was determined to close down the prison. So, is he in a position to do just that without Congress?

BW: Well, let me tell you, under the National Security Waiver he can do that with the Secretary of Defense, he does have that power. He continues to blame Congress, and Congress continues to blame him. I mean, the words of May the 23rd are beginning to fade, it's time for this administration to either put up, or to at least tell us what's really going to happen. The President does have the authority to release men from Guantanamo Bay, to include men like Shaker Aamer back to London [England], an ally of the United States.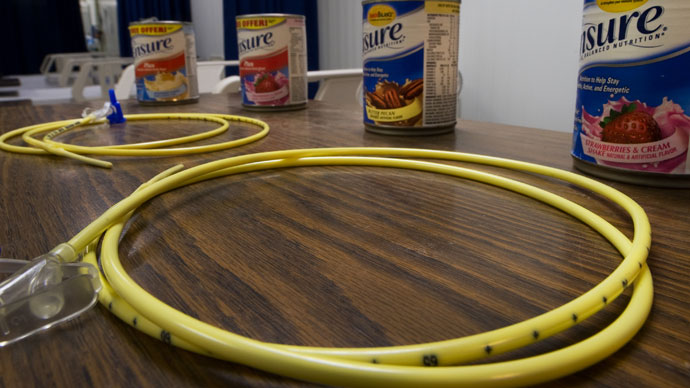 RT:Lt. Col. you are there in Guantanamo right now, after four months on hunger strike how are your clients and other detainees holding up?

BW: Well, let me tell you, the hunger strike -- there's no kind of negotiation going on to end the hunger strike. My client reports that all of his personal possessions are still confiscated, his toothbrush, his soap, his letters from home, his client-attorney letters which are privileged, that the two of us are using to communicate -- has all been taken and not returned. I mean, there's just, on the ground here at Guantanamo Bay, there appears to be no change whatsoever, and everyone is sort of waiting for Washington to show some leadership.

RT:What about the force feeding issue, accusations that it in fact entails torture? If people are in fact on hunger strike the prisoners need to be kept alive, and the prison authorities are doing just that -- are they still force feeding them, and if so, it is justified isn't it?

BW: No, we disagree. We believe that a person who is alive and can make a decision as to what to do with their own bodies can make that decision. I mean these men began a hunger strike over their hopeless situation of indefinite detention and instead of responding to their peaceful demonstration what we've seen is a lot of violence and retaliation, and solitary confinement and confiscations. We've seen aggressive searching -- my client reported to me today that when he was coming out to visit with us they went out of their way to aggressively search him, in a very uncomfortable way. I mean, that's not accidental, that's intentional.

RT:But when it comes to the conditions of those hunger strikers what is the military supposed to do? Congress has now blocked the closure of the facility, the detainees are putting their own lives at risk by refusing food, surely the officers are simply doing their jobs. What are your thoughts on the way they are handling this in the prison?

BW: Well, I think that these are grown men, who have a right to make decisions about themselves. I mean just think about it in the opposite, how obscene is it to say we need to keep you healthy to keep you here for the rest of your life without ever being charged with a crime. I mean this isn't about soccer fields or Arabic libraries, one thing we've noticed here on the ground is that there's been a lot of effort in the public relations field, every week these media outlets come in and do surface tours, which is come in here and look at the prisoners in their cells -- but, how can anything be resolved when the prisoners are kept without charges or an opportunity to defend themselves.

RT:How is it going to be resolved? What are the next steps you are going to take along with others who are representing detainees, what's the next step for you now after what seems to be a fairly pessimistic result there from Washington?

BW: Well, I'm going to go back to the fact that the President does have the ability to release these men. I represent the men from Kuwait, where they've built a $40 million rehabilitation center. This whole argument that there is nowhere for them to go -- we're going to continue to fight, we're going to continue to demand justice. This isn't about soccer fields or Arabic libraries, we're going to continue to fight in the media, we're going to continue to fight in the habeas corpus arena. The military commissions are no solution, they've done seven cases in eleven years. So we're going to try and get these guys real justice from the federal court system.

The statements, views and opinions expressed in this column are solely those of the author and do not necessarily represent those of RT.
You can share this story on social media: