'China in position to talk to everyone in Middle East'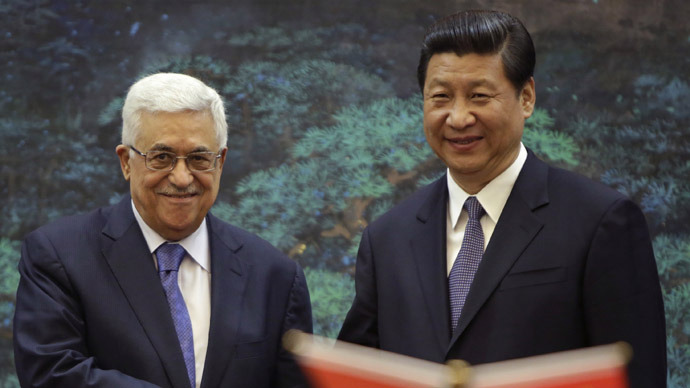 China has managed to build strong relations with both the Palestinians and the Israelis, which makes it a unique player in the Middle East, Vice President of the Israel-Asia Chamber of Commerce Ilan Maor told RT.
The leaders of Palestine and Israel are visiting China simultaneously. Although China's offered to host a meeting between Benjamin Netanyahu and Mahmud Abbas, neither side has expressed any willingness to attend. However, lLan Maor believes China has everything to become a conciliator between the Palestinian Authority and Israel in the near future.

RT:You've have billions worth of trade with China, yet, Beijing still sides politically with Palestine. Why is that?

Ilan Maor: I don't think we should mix the two issues. On the one hand Israel and China are improving relations in basically all aspects. On the other hand China has long-term relations with Palestine and is putting more interest into the Middle Eastern conflict. I don't think they are now taking sides but are trying to find their position in the Middle East discussion. That's what we are seeing now – they've met with the Palestinians already and will be meeting the Israeli Prime Minister in a few days.

RT:Why is China seeking to stretch into the Middle East anyway? The market for its goods there is much smaller, and not even that stable?

IM: This is a new trend in China. I think a few years ago China would be reluctant to be involved in such a conflict. But in the past decade we've seen China getting more and more involved in the international issues and the Middle East for China is an important area. China imports resources from the Middle East and therefore stability in the region becomes more and more important for China. At the same time, the major power for stabilization in the region, the US, is taking a bit less interest in the Middle East, and there is more need for somebody else to be involved. That's why we see the Russians and the Chinese involved, and I think we'll see this trend continue in the future.   

RT:With China's economic rise, comes a political one. Do you believe it can match America's clout in the Middle East?

IM: China is China. They aren't looking for competition or balance with anyone. China is regaining its position as a major global player. It has a unique position in the fact that, on the one hand, it has very good and long-standing relations with Palestinians and all the Arab world including Iran. At the same time, in the past 20 years they've developed good relations with Israel as well. That puts them in a very interesting position to talk to everyone. Moreover, China is very well known for its peacefulness, they are against conflicts and violence. Bringing somebody to the Middle East, who is supporting finding solution without using violence, if it is taking action not only by statements and pushing the Hezbollah and the Hamas to lower the flames - that can be useful for everyone.   

RT:What does Israel have to gain from a close relationship with China, aside from small increases to trade?

IM: Trade and economic relationship is important by itself, but I think this is a very important visit. This will be the first time the Israeli leadership will meet the new leadership of China, which will lead the country for the next decade. It is very important to have personal connection, to create direct communication between the two leaderships. If this visit creates good communication between the two leaderships given that China is getting more and more involved in the Middle East, this could be very beneficial for Israel.