​'Fun-style' protests: 10th annual Israeli apartheid week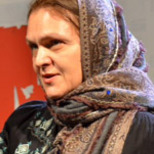 Nadezhda Kevorkova has worked at RT since 2010, before which she was a special correspondent for 'Novaya gazeta,' 'Nezavisimaya gazeta,' and 'Gazeta.' Kevorkova has also worked extensively in Russian mass-media. As a war correspondent, she covered the Arab Spring, military and religious conflicts, and the anti-globalization movement. She has worked as a reporter in Egypt, Sudan, Palestine, Jordan, Lebanon, Syria, Iraq, Iran, Pakistan, Azerbaijan, Ukraine, Hungary, Greece, Turkey, Cuba, and in the republics of the North Caucasus, Tatarstan, and in the Far East. In 2001, after an invitation from US State Department, Kevorkova visited a number of states, including Alaska. As a correspondent of 'Gazeta' she reported from Indian settlements in the US. She covered the 'Gaza Freedom Flotilla' in 2008, 2010 and 2011; she also visited Gaza several times during the blockade. In 2010, Kevorkova was nominated for the 'International Women of Courage' award.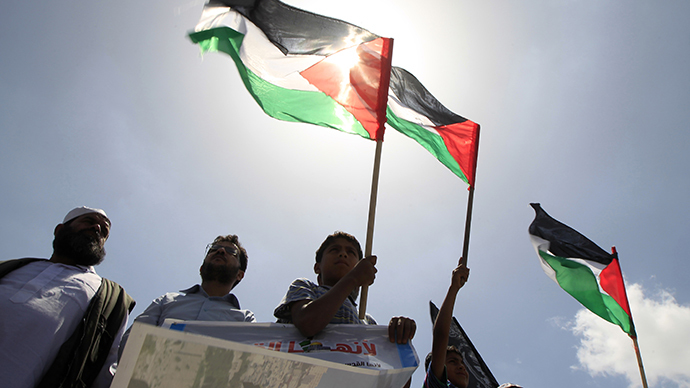 Peaceful protests for Palestinian rights seek new modalities, but fail to translate their ideas into action.
For 10 years, human rights groups in various countries across the 'civilized' world have organized annual Israeli Apartheid Weeks to raise public awareness about Israel's policies toward the Palestinians. This year's Apartheid Week just finished in the United States and Canada, and last Monday it launched across Europe.
The ongoing crisis in Syria has rather put the Apartheid Week in the shadows for the past two years, for obvious reasons. This year's event isn't likely to be much of a breakthrough either. Nevertheless, it's already got the Left in Western countries abuzz with enthusiasm. Activists are organizing street marches and photo exhibits, sponsoring public assemblies and panel discussions, creating advocacy websites and web communities, printing tons of promotional materials, setting up action groups to boycott Israeli goods and services and even visiting professors from Israel, etc. This may not translate into tangible results, but it is fun, and it makes the activists feel like they are part of a historic, worldwide effort.
Notably, such awareness weeks do not register in countries that have been truly supportive of the Palestinians and their cause for many years, such as Iran, Syria, Greece, Russia, Venezuela, and Cuba. Apartheid Weeks are similarly nonexistent in Turkey, which has backed the Palestinians since 2010 by way of confronting Israel with scathing political statements, and dispatching medics and medical supplies to Palestine.
Activists in the West are superb at staging spectacular rallies and other events, complete with many thousands of protesters, and with mass production of Palestinian pins, scarves and posters. However, those cheerful gatherings are not even capable of raising money to support the Palestinians in the besieged Gaza strip, let alone address any of their essential grievances.
These well-meaning street actions are fun, but they are practically useless. This is the tactic the West has come up since the fall of the USSR. The Soviets used to train, treat and supply Palestinian freedom fighters, but they never indulged in handing out keffiyeh (Arab scarves) to show support.
Visual persuasion
Still, the do-gooders' storm in a teacup has produced some value over the years, after all.
Meet Michal Vexler, a UK-based Jewish artist, whose series of posters vividly depict the plight of the Palestinian people, and capture the insanity of Israel's policies.
Vexler has participated in numerous actions in support of the Palestinians. It all culminated in his expulsion from Israel, where he had gone as part of a multinational human rights campaign protesting the Gaza blockade.
Vexler did most of his posters years ago, but they only became widely known recently, thanks to the advent of social media.
Here are some of Michal Vexler's works.
Nationality of children matters
This poster shows the difference in the legal status of 12-year-old children. A Jew is supposed to wait for a court ruling on his or her arrest for up to 12 hours, while a Palestinian will have to spend four days. This period could be extended if the person presents a 'threat to Israeli security'. A lawyer shall visit a Jew within two days; a Palestinian could wait up to 90 days. An investigation into the actions of a Jew shall take no longer than 40 days; the period is extended to 60 in the case of a Palestinian. Jewish children under 14 cannot be held accountable in court, while 90 percent of Palestinian children in jails are under 12. If a Jewish child is 14, the waiting time for a trial cannot exceed more than six months. A Palestinian child could spend up to 12 months waiting for criminal proceedings; if he or she is a 'security threat', the term will be extended to 18 months. Four out of five Jews will be freed without any investigation or trial, while only 13 percent of Palestinians may be as lucky. Only 4.5 percent of Jewish delinquents under 14 are prosecuted, while 90 percent of Palestinian 12-year-old delinquents are certain to end up in jail.
Classifying Palestinians
A total of 1,413,500 Palestinians reside within a zone occupied back in 1948. As citizens of Israel, they enjoy the same rights to vote and move as Jewish citizens, but their rights are not respected. They are barred from visiting the Palestinian Authority, even if they are journalists. They can't go to most of the countries in the Middle East, either.
Two hundred and eight thousand Palestinians reside in East Jerusalem occupied in 1967. They cannot leave the country, they cannot even go anywhere beyond East Jerusalem. They have no citizenship, only a resident permit.
A further 2,361,000 Palestinians live in the West Bank. They have no citizenship, they are not allowed to travel within the West Bank.
The Gaza Strip is home to 1,562,000 Palestinians. They have no citizenship, are cut off from the rest of Palestine and endure a fully-fledged blockade.
There are 1,980,000 refugees, 436,000 of whom were displaced and now live in Jordan, Lebanon and Syria. Four hundred and eighty-seven thousand are considered to be refugees without citizenship by the UN. They are not allowed to visit the lands where they or their ancestors were born.
Water
Palestinians receive only 20 percent of the water resources, even though the major part of the water supply underlies the West Bank. A third of this water supply gets lost due to outworn pipes, which cannot be fixed because there's no connection between the Palestinian settlements. The Jewish population gets the other 80 percent.
Palestinians aren't allowed to build new cisterns to collect water. Israeli settlers commandeer most of water streams and brooks for their own use.
Jewish residents consume 242 liters of water per person daily. Palestinians: 37 to 100 liters, depending on the particular settlement.
Feel like a seaside vacation?
You're a resident of an Israeli settlement, and you feel like going to the coast? Just go ahead.
You're a Palestinian and you feel like going to the seaside as well? You've never participated in any dodgy activities, you're healthy and loyal, none of your family members have been imprisoned, wounded, or killed, or have participated in rallies or had their homes destroyed? Then, after several years of red tape and waiting you may get a one-day pass for a trip to the seaside, valid for 14 to 30 days.
I've never met such a person among Palestinians.
Justice
40 per cent of male Palestinians have been arrested by Israeli army at least once. Family visits are not allowed for over 3.000 Palestinian prisoners (more than two thirds as of 2011).
Israel captures 276 Palestinians monthly.
During the Second Intifada of 2000, Israeli forces arrested 28.000 Palestinians, which equals to the population of Ramallah.
Two hundred Palestinians are held in Israeli prisons without charge or trial. Most of them have been put in there by order of the security services. They have no protection. Their cases are considered secret and are not for public disclosure.
How all these illustrations can be used is unclear. You could place these posters all over the UN premises, but still the organization is unlikely to come up with a solution.
Surprisingly, there are a lot of former soldiers, intelligence officers and lawyers among these activists, but this mass that takes part in the Apartheid Weeks has no plan or strategy how to influence Israel or their own governments.
However, thanks to long-term efforts of such enthusiasts, including those in Israel, Palestinian issue is becoming better documented and illustrative, like a revolutionary poster....
The statements, views and opinions expressed in this column are solely those of the author and do not necessarily represent those of RT.