Afghan drugs: A universal problem solvable by collective will only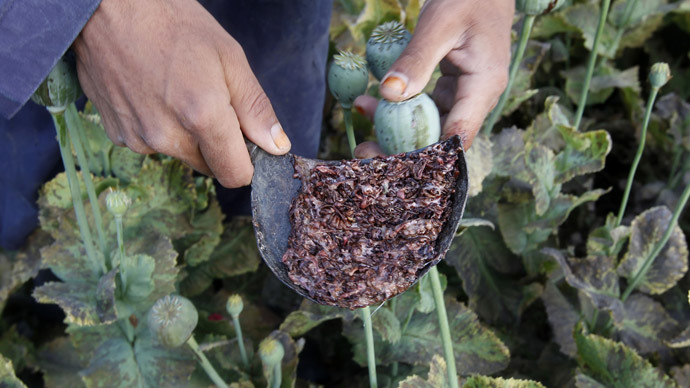 Despite the efforts of the Afghan government and counter drug agencies, production of Afghani heroin is burgeoning, so nations must unite to beat that evil, UN officials told RT. Otherwise, when the ISAF withdraws in 2014, the problem will only grow.
Two senior UN Office on Drugs and Crime executives have told RT that unless the international community gives Afghan farmers a decent alternative to the poppy, the "lucrative business" of opium cultivation will continue beyond the US troops withdrawal.

The situation on the ground in Afghanistan remains very worrying. Increasing to 209,000 hectares, 2013 has set an absolute record of opium poppy cultivation, said Jean-Luc Lemahieu, head of the UN Office on Drugs and Crime (UNODC), who joined RT live from Kabul.
The illicit economy booming in Afghanistan threatens the future of the country, he said.
Angela Me, Chief of Statistics and Surveys Section of UNODC, told RT that "one of the major reasons of the surge of the poppy cultivation in Afghanistan is the uncertainty that the farmers and the country see after 2014," when the allied ISAF (International Security Assistance Force) troops are expected to leave Afghanistan altogether.
"In previous years we have seen that opium is cultivated where there is no territory control from the government" she said. So in the future, if there is no control, "then it's likely to be more opium," Angela Me warned.

Besides that, "cultivating opium remains a lucrative business" for the Afghan farmers, for whom opium growing "is also a way to think how to look at the future," Angela Me added, explaining that from poppy fields Afghan farmers "obtain 4-5 times" more than from the same amount of land growing legal crops.
Jean-Luc Lemahieu urged "not to start finger-pointing" when searching for the guilty parties in the current situation. He said the Afghan government should be expected "to do a lot more" about opium cultivation in the country, together with the international community that also has "a stake in this problem".
"The [Afghan] government is definitely trying through an eradication campaign to try to stop farmers [from cultivating opium poppy], but eradication has reached only about 7,000 of fields, which compared to more than 200,000 opium cultivations is just a tiny percentage," Angela Me said.
"Don't forget that in total Afghan opium profits made globally 68 billion US dollars, and less than 10% remains in Afghanistan. So we need to take up our shared responsibilities," Lemahieu acknowledged.
It is the drug traffickers and criminal organizations inside and outside Afghanistan who benefit the most, organizing routes of heroin transportation to the outside world, where drug prices are much higher, Angela Me told RT.
In the opinion of UN official Jean-Luc Lemahieu, the paradox is that while Afghanistan's counter narcotics institutions are making "tangible progress", it is not really enough and overall addiction and cultivation rates in the country are on the increase. "Everybody plays a role in this," said Lemahieu, emphasizing that it is a problem for the whole world.

"Afghanistan is the major producer of opium and heroin in the world," Angela Me added, flagging, as the leading consumers of Afghan-produced drugs, European countries, Africa and Central Asia, also mentioning Australia, Canada, China, Russia and Malaysia. 
Jean-Luc Lemahieu stressed that it is impunity and fragmentation in the illicit Afghan economy that "allows people to grow and cultivate opium in a way which remains unpunished today".
But opium production in Afghanistan "is not an unstoppable issue, we can stop it," assured Lemahieu. "The remedies are known but we need now to have political will of all involved to make this happen," he said, pointing out that Afghan farmers grow various crops and the opium poppy is only one of them.
To correct the situation as soon as possible, the counter narcotics agencies need to conduct an integrated agricultural policy dealing with illicit crops, something they don't consider being their respnsibility today. 
"We need to make sure that the development agencies, security forces… that everybody plays a role in this," Jean-Luc Lemahieu concluded. Otherwise "we are going to continue with this evil."
The statements, views and opinions expressed in this column are solely those of the author and do not necessarily represent those of RT.