'People were put into the ovens where they usually bake the bread'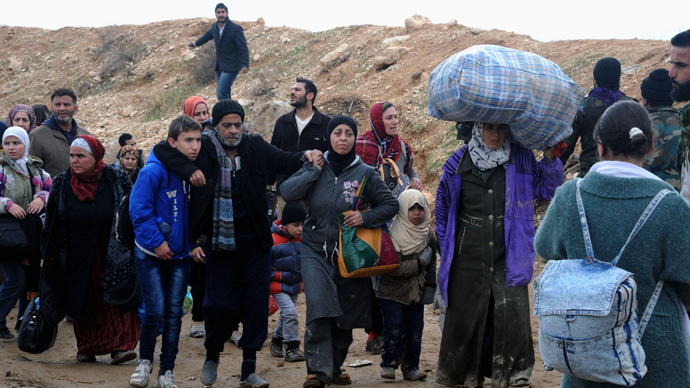 The town of Adra in Syria has seen some of the conflict's worst atrocities. RT managed to speak to war journalist Manuel Ochsenreiter, who has described some of the horror stories he has heard from the locals there.
RT:What struck you most from the stories you heard in Adra?
Manuel Ochsenreiter: I was in Syria last December when terrors against Adra took place and what has still stuck in my memory is the outspoken brutality of those stories. I heard stories about mass executions, also about executions of children, of women. And maybe the most brutal and at the same time weird was the story about employees of the state bakery which were put into the ovens where they usually bake bread. They were putting humans in it, the terrorists. So this is maybe the most shocking and brutal story, I was able to hear.
At the same time, we have to say that when those stories came up and you were able to listen to them, you witnessed a complete silence from the West. There was no call for international investigation of these crimes.
RT:The key word there is stories. They are yet to be verified, aren't they?
MO: Exactly, they have to be verified. If it is true, they have to find those responsible for them and they have to find out if the responsible people who committed this, if those people are those who are supported by the West, by Turkey and by the Arabic states.


RT:Now the US national intelligence chief has claimed that the Syrian government is capable of producing biological weapons. Of course this comes at a time when there is the removal of those toxic arsenals throughout the country. What do you make of the timing of that? Why should they be mentioning it now?
MO: Frankly speaking, nothing is a coincidence which is said right now these days, because we have right now the peace conference, the Geneva 2 conference taking place, where the delegation of the Syrian government is [making] a positive impression and a good performance, while the foreign-supported opposition of Syria is not giving a really good impression. So, those leach men coming now from US secret services are not a coincidence at all and we have to see that within the last three years, we have to remember that the Syria war has been going on for almost three full years. Since three years [ago], certain circles of foreign politics in the West are trying to impose an argument for military intervention in Syria.
RT:So those sort of statements could have an impact on the peace talks in Switzerland at the moment?
MO: That is the big question. Right now, it all depends on how the mass media, how western governments will take this approach. We have to remember that one day or two days before the negotiations in Geneva began, there was this report about the so-called war crimes, with these photos coming up right in time delivery, we can call this, and there later it came out that it is a fraud report, that there was a lot of staged material in it.
So this is one of the maneuvers to disturb those talks because as I said, the Syrian government is [making] a good impression and a good performance while the so-called opposition is not doing this. They are in a deep problem and they need the help of the West and this could be one of those helpful maneuvers.
The statements, views and opinions expressed in this column are solely those of the author and do not necessarily represent those of RT.