Joe Biden is appointing a black woman to the Supreme Court. Which one in particular? No idea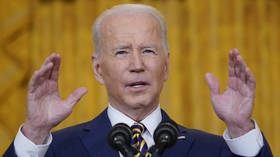 Joe Biden is clearly a desperate man who is desperate for votes. How else can you explain his announcement yesterday that he intends to appoint a black woman – no word on which one in particular, as of yet – to the US Supreme Court.
To be fair, Biden is only fulfilling a pledge he made in 2020, when he was chasing the Democratic nomination to stand against President Trump. I understand why he did it, as he was attempting to secure vital support from the left of his party. Nevertheless, it was an ill-thought-out commitment at the time, just as it is ill-judged to implement it now.
And Biden really doesn't have a good track record here, because another pledge he made was to have a black female vice president. Now, considering that Kamala Harris is one of the most unpopular VPs in history, you could be excused for thinking that Biden has clearly not learned from his previous mistake of picking a candidate based on immutable characteristics.
Biden is looking for a new judge to sit on the Supreme Court because Justice Stephen Breyer announced his intention to resign on Wednesday. There had been calls for some time now for Breyer, who is 83, to retire so that Biden could fulfil his pledge to appoint a black woman. Moreover, Breyer was allegedly angry that his retirement plans were leaked to the press before he had the opportunity to make the announcement himself.
This all has a whiff of convenience about it. Biden is lumbering in the polls at the moment and many Americans are suffering from "buyers' remorse." Indeed, his approval ratings have hit an all time low, with only 41% of Americans believing that he is doing a good job. Biden therefore desperately needed a bounce, and Breyer's retirement has provided his team with the opportunity to push out a rare positive news story.
Biden also needs this appointment to shore up his vote with black Americans, who are increasingly turning their backs on him and his party. Polls show that only six in ten black Americans approve of Biden's performance, which is down from about nine out of ten during the first six months of his presidency. If this trend continues, the Democrats are facing annihilation at the polls in November's midterm elections.
This is why the announcement looks like it's been rushed out. If the Democrats do take a beating in November and lose control of both Congress and the Senate, Biden will be a lame duck president. As the appointment of a Supreme Court judge requires the confirmation of the Senate, Biden's sense of urgency becomes all the more understandable. It is highly unlikely that Republicans, who will likely gain control of the Senate after November, would allow such an obviously partisan appointment to pass … at least without an almighty bun fight.
Nevertheless, there is no guarantee that Biden will get his nomination through the Senate now, as his party only has a wafer-thin majority. Moreover, the Republican Senate leader, Mitch McConnell, has said, "the President must not outsource this important decision to the radical left. The American people deserve a nominee with demonstrated reverence for the written text of our laws and our Constitution."
Therefore, Biden's virtue signalling promise to appoint a black female judge may yet be broken. There have been 37 unsuccessful nominations to the Supreme Court over time, and of that number, 11 were rejected by the Senate. It has happened before, and it could happen again, especially considering the rough ride Democrats gave to Trump's Supreme Court nominations, Brett Kavanaugh and Amy Coney Barrett, there could be a whiff of revenge in the air.
Beyond the obvious political games being played here, there is also the question of what is right and wrong. Surely the most qualified person for the job should be appointed, regardless of sex, race, religion, or indeed anything else. Can you imagine the outcry if the president said he didn't know who the candidate would be, but he would definitely be a white man? In normal times, this is what you would expect, but we are clearly not living in normal times, especially in the racially charged US at the moment.
I will leave you with this thought. Perhaps this is the perfect opportunity for Biden to remove Harris as his VP. She ticks all the boxes … she is a lawyer, she is black, and she is a woman. He could then have a more popular and competent running mate if he chooses to have another tilt at the White House in 2024. I know this is unlikely, but it's a thought...
The statements, views and opinions expressed in this column are solely those of the author and do not necessarily represent those of RT.
You can share this story on social media: