The diplomatic row that shows China's true global strength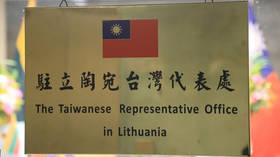 China's dispute with Lithuania over its recognition of Taiwan attracted a lot of headlines in 2021, and it will surprise few that the repercussions are still rumbling on into the new year.
In retaliation for the opening of a "Taiwan representative office" in Vilnius, China has not only downgraded its diplomatic ties with the Baltic country, but has also imposed an unofficial trade embargo in the form of secondary sanctions. Not only is Beijing directly blocking exports to it, but it is also demanding European countries in the Chinese market refrain from supplying to the Baltic country.
Taipei has desperately attempted to offset Beijing's pressure by buying up Lithuanian exports of rum, and even launching a $1-billion loan fund to potentially transform the country into a semiconductor hub.
But there is growing evidence that pressure on the Lithuanian government is mounting from multiple avenues. First of all, Reuters reported that German industries are now actively lobbying for Vilnius to back down. Only a month ago, the German Chamber of Commerce in the Baltic had warned that factories in the country may be forced to close altogether in the face of Chinese pressure. At the same time, Lithuania's exports to China have been all but wiped out.
Then, most significantly of all, came a report in the Financial Times which claimed American diplomats have floated suggestions to Lithuanian officials that the name of the representative office ought to be changed to 'Taipei,' as the usage of 'Taiwan' crosses Beijing's red line. The message to Lithuania is simple – compromise and back down, despite public US backing for Vilnius against so-called Chinese "coercion."
Very simply, these revelations illustrate that China is effectively winning its dispute with Lithuania and that its economic power is compelling others to demand Vilnius change course.
Polish president Andrzej Duda's confirmation of a visit to China for the Winter Olympics, combined with a recent call between Estonia and China, are further tell-tale signs that solidarity with Lithuania's stance in taking on China is in short supply from its neighbours.
Whether Lithuania actually changes course is another question. But one thing that is becoming clear as the row drags on is that Vilnius has isolated itself. As a recent public opinion poll confirmed, its own population do not support the move, and neither does its President Gitanas Nauseda, who acknowledged it was a mistake.
The gaslighting of the Taiwan issue with the goal of angering Beijing – both from the media and in Taipei itself – is dangerous, counterproductive and unhelpful. China has long indicated it was serious about having its lines crossed on this, but many refused to listen.
Taiwan and its backers have grossly underestimated Beijing's clout. As I have pointed out previously, as part of a deliberate strategy, Taipei has stirred up trouble to secure support for itself, challenging red lines and taking a calculated risk that China's angry responses can win over western hearts and minds without significantly harming it.
In doing so, Taiwan's leadership has, in somewhat delusional fashion, attempted to pitch itself as an economic and trade alternative to China itself. The ruling Democratic Progressive Party has sought to exploit anti-China sentiment in multiple countries, in particular recognizing an opportunity in legacy anti-Communist sentiment in Eastern Europe, where it launched a public-relations blitz throughout 2020 and 2021. Lithuania, a vocal pro-US country, was goaded into opening the representative office.
Taipei knew that China would react to this, but assumed this would only amount to aggressive rhetoric, in the belief that the only really harmful response could be the military option – which was unthinkable. But it underestimated Beijing.
Vilnius also miscalculated, believing the European Union and US would rally behind it. But they haven't to any serious degree. Apart from some half-hearted rhetoric, the EU has reacted with general indifference to the row with behind-the-scenes recognition that Lithuania's problems are self-inflicted.
Instead of providing solidarity, German businesses have simply threatened to quit the country while China engages with [Chancellor] Olaf Scholz's new government. This is a reminder to everyone that China is so deeply entrenched in global trade and supply chains that confrontation with it is undesirable, and any thoughts that a small island of 25 million people can be an adequate substitute are economically illiterate.
Furthermore, Taiwan's pledge to turn Lithuania into a semiconductor hub is also unrealistic, given Lithuania has long suffered a declining population and an outward brain drain, and it doesn't have the resources to ever merit hosting such an industry.
The suggestion that Washington is now urging it to back down should be a sufficient warning. But even if Lithuania remains defiant in its stance, Taiwan's publicity-stunt foreign policy has finally started to show its flaws and absence of strategic thinking (although Slovenia doesn't appear to have noticed, with Prime Minister Janez Janza
contemplating allowing Taipei to open an office there, which has drawn condemnation from China).
Regardless of whether that happens or not, Beijing is humiliating Lithuania, while firmly demonstrating its economic strength – and Vilnius finds itself ever more isolated, with only itself to blame.
The statements, views and opinions expressed in this column are solely those of the author and do not necessarily represent those of RT.
You can share this story on social media: