Will 'France's Hillary Clinton' become their first female president?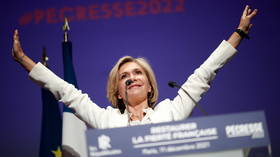 Presidential candidate Valérie Pécresse might compare herself to Angela Merkel and Margaret Thatcher, but the unappealing truth is she is more like Clinton – a figure completely entrenched in the establishment.
The sands are shifting rapidly in the run-up to the French presidential election, set for April 10 and 24 next year. The big question right now is which two candidates will make the run-off round. And then who can then rally the most voters of other parties in that final round. Within this context, a new contender has emerged.
Barring unforeseen circumstances, President Emmanuel Macron seems like a shoe-in, running at 24% support in the latest Opinionway survey. But the next most popular contender now is long-time political fixture and former minister, Valérie Pécresse, of the center-right The Republicans. At 17%, Pécresse is running ahead of harder-right rivals Marine Le Pen of the National Rally party (16%), and Eric Zemmour of the Reconquest movement (12%).
At 54 years old, Pécresse's political career dates back to the 1990s, when she was an advisor to President Jacques Chirac before being elected to the National Assembly and then appointed Minister of Higher Education and Research during Nicolas Sarkozy's presidency.
Pécresse is arguably the most entrenched establishment candidate currently running for the presidency – and that includes Macron himself. This at a time when citizens worldwide are fed-up with the mess that the globalist establishment elites have created.
Not being completely tone-deaf, Pécresse understands that the current appetite is for greater national independence. To even emerge as the candidate for her own party, she had to defeat hard-right National Assemblyman, Eric Ciotti. And now, to make it to the second round of presidential voting, Pécresse will have to beat two candidates markedly further right than she is. Beyond that, if she wants to win the presidency and topple Macron, she will then need to be preferred over Macron by those two candidates' voters.
So, over the course of her party's candidate selection process, Pécresse echoed opponents further to the right of her – like Zemmour and Le Pen – in singling out the United States for special criticism, saying that she doesn't want France to become a vassal of Uncle Sam. She also said that she wants to "break the ghettos" and "stop uncontrolled immigration."
Her appeals to the non-establishment right would also explain why, despite having been an opponent of Brexit or Frexit, or of entertaining the notion of any nations reclaiming their full independence from the European Union straitjacket, Pécresse nonetheless has started calling for greater independence of member states within the European Union.
Pécresse has described herself as "one-third Thatcher, two-thirds Merkel," referring to the former female British Prime Minister and German Chancellor. Except that both of those leaders were global agenda-setters. Pécresse is more like Hillary Clinton: a global agenda fixture.
Pécresse also can't seem to pry herself away from establishment groupthink with respect to Covid-19. During her party's televised primary debates, she said, "The French who have been vaccinated have assumed their responsibilities, I would consider re-containment only of the unvaccinated."
Clearly a supporter of Macron's health pass, the tool's uselessness has apparently escaped Pécresse as infections surge among the vaccinated contaminating each other in health pass venues. This should be the kind of massive red flag that warrants disqualification from serious consideration.
If Pécresse, as she suggests herself, is more interested in rewarding those who adhere to the establishment narrative in the case of Covid – and overtly punishing those who choose to dissent in the interests of their own individual freedoms and personal health circumstances – then how can she ever be trusted to defend the interests of the average French citizen on other matters whereby they're bulldozed by globalist thinking?
It's hardly because of some kind of record of critical thought and willingness to depart from the status quo that Pécresse has enjoyed such a long establishment career.
And although it would be unfair to hold Pécresse responsible for her husband Jerome's career, it's nonetheless interesting to note that when General Electric purchased the power and grid business of France's energy giant, Alstom, in 2014 (completed in November 2015) – an acquisition that placed France's prized nuclear knowhow directly into the hands of one of the U.S. government's largest defense contractors – he went from being Executive Vice President of Alstom and President of Alstom Renewable Power to President and CEO of GE Renewable Energy. He was the only top French executive not fired after the acquisition.
With GE being one of the key multinational jewels in the American industrial crown, it's not hard to imagine how, if French and American interests end up clashing at some point, a potential President Pécresse and First Monsieur Jerome might have some rather uncomfortable choices to make.
This election represents nothing less than a crossroads for France, a critical juncture between sovereign independence and globalist dependence. It's not hard to look at Pécresse's background and institutional demeanor and take a guess at which path she might choose.
The statements, views and opinions expressed in this column are solely those of the author and do not necessarily represent those of RT.
You can share this story on social media: