The woke's silence on Jussie Smollett's guilt is deafening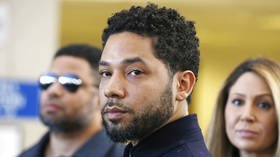 The opportunist politicians and celebrities who jumped on the bandwagon to denounce Smollett's 'assault' two years ago seem markedly less keen to celebrate the fact there was no racism or homophobia involved at all.
So Jussie Smollett, the 'Empire' actor and BLM advocate, has been found guilty of five counts of felony disorderly conduct related to staging a hate crime with himself as the victim. He was also found not guilty of a sixth count of the same charge.
The hoax took place in 2019, during the early morning hours in downtown Chicago. Smollett alleged that he had tried to buy some eggs at Walgreens, but when he found the store was closed, he instead stopped to get a sandwich at Subway. While out, he claimed two men assaulted him, pouring bleach on him and placing a noose around his neck as they yelled racial and homophobic slurs.
Although information quickly came out which ruined the credibility of Smollett's story, looking back, it's clear to see that despite the account having holes from the start, many were eager to embrace the idea that in modern-day America, it was common for hate crimes to be committed against even rich and powerful gay, black men. And just as enlightening as the left's initial embrace of Smollett's story has been the reluctance since to denounce the star, now that he's been found guilty of staging the crime.
Smollett may have tried to weaponize the public discourse surrounding racism and homophobia for his own benefit, but sadly, he's far from the only one to do so.
When news of the supposed hate crime first made headlines, a long list of celebrities and activists came forward to offer their support for Jussie and condemn the bigoted attack against him. Viola Davis, Ariana Grande, Kerry Washington, John Legend, and George Takei were among those to publicly and bravely confirm that no, it is not acceptable to assault people for their sexuality and race.
Additionally, fellow actor/activist Elliot (then Ellen) Page took her condemnation even further, and in a rant that is once more going viral following the guilty verdict, suggested that the attack on Smollett was in some way tied to the views of President Trump and Vice President Pence. "Connect the dots," Page said. "This is what happens. If you are in a position of power and you hate people, and you want to cause suffering to them [...] What do you think is going to happen?"
Just look at the passion of Elliot Page (formerly Ellen) as they angrily and tearfully denounce the political dynamics which they claim directly caused the hate crime attack on Jussie Smollett. Stephen Colbert affirms his total agreement -- then Page receives a standing ovation pic.twitter.com/rbOsgq7sC2

— Michael Tracey (@mtracey) December 10, 2021
Politicians were also hesitant to let an alleged politically charged tragedy go to waste, and the likes of Kamala Harris, Rashida Tlaib, AOC, and Joe Biden himself took the opportunity to remind their followers that unlike other politicians, they stood firmly against racism and homophobia. Like their celebrity counterparts, they were keen to not just denounce the attack on Jussie, but also paint it as representative of the general bigotry in America.
From the beginning, the public had reason to doubt Smollett's claims (Trump supporters happened to bump into him in downtown Chicago at 2am during a winter vortex while carrying a noose and bleach?). But regardless of what the facts at the time were, scores of public figures quickly leapt at the chance to remind us all that not only were racism and homophobia endemic in society, but that they were on the good side of things.
The love-fest didn't last long, however, once investigators discovered that, far from the white or "pale skinned" attackers Smollett had described, the two men captured on camera "assaulting" him were actually two Nigerian brothers, whom Smollett knew.
As evidence began to grow pointing toward the "hate crime" being staged, and by Smollett himself no less, many who had initially commented on the case seemingly lost interest in the story. One might have thought that discovering people hadn't targeted a black, gay man for a hate crime would be cause for celebration, but in contrast to the explicit statements of support, there were few, if any, apologies or corrections released by the celebrity/activist left.
In fact, many of the social media posts voicing solidarity with Smollett still remain up to this day, like those by Kamala Harris and Rashida Tlaib. Surprisingly, one of the few later clarifications on the case came from Page, who tepidly admitted, "If this situation was staged, it could make victims even more reluctant to report these crimes."
Although most of Smollett's celebrity and activist supporters abandoned him long before the trial began, curiously, on the eve of the verdict, the official Black Lives Matter organization instead chose to release a statement affirming that they stood by the actor.
The post on their site avoided discussing the details of the trial, but instead pointed to BLM's distrust of the police, the racism of the justice system, and Smollett's support for their cause as their reasoning for backing him.
In a world where allegiances are determined purely by social and political convenience, it should come as no surprise that BLM would choose to side with Smollett against the police, regardless of what the facts may be.
And although BLM may be the most open in their denunciation of right and wrong, or true or false, in favor of 'the message', if nothing else, the Smollett case has shown us the attention-seeking actor is far from the only one willing to leverage societal strife for some publicity.
The statements, views and opinions expressed in this column are solely those of the author and do not necessarily represent those of RT.
You can share this story on social media: