RT to fight against censorship & intellectual conformism by backing alternative voices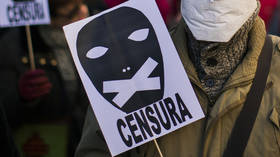 RT is to fund a series of ambitious standalone projects, offering a platform to original thinkers and polemicists, who find themselves marginalised by the mainstream media, political establishment, and Big Tech.
From social media to politics to academia, the clampdown on independent voices shows no signs of abating in the West, with no organized backlash allowed to emerge
Once the internet was a refuge for dissenters. Now, it has become a frontline for intellectual control, where even basic facts are infinitely malleable to those who wield power, and stating simple truths can lead to a lifetime of ostracism.
At a time like this, the thoughts of those who promote freedom of speech and conscience and expose creeping totalitarianism that is complacently accepted by the majority become an ark that allows civilizational values to be saved through a time of crisis.
RT plans to help disseminate the unfiltered ideas of key thinkers through a series of independent projects, including multimedia programs, lectures and interviews, broadcast and theatrical films and shows, and published work.
Some of these endeavors will be directly funded by RT, while others will be backed through grants or on a commercial basis, and produced independently by outside contractors. In all instances, RT does not strive for editorial or creative control, only for the projects to succeed on their own terms and reach an audience.
While RT has no set political bias, those who stand against postmodernist trends, moral relativism, and endless revisionism in Western educational institutions are under the greatest threat of extinction in an increasingly intolerant environment. Often deprived of many key pathways to economic self-sufficiency in the Western media ecosystem, these voices will receive the greatest support.
RT's initiative is in line with a broader revival of Eastern Europe as a center of intellectual thought, designed to preserve the achievements of the Enlightenment and prevent the continent from falling into a new Dark Age of cultural decline and irrelevance.
The statements, views and opinions expressed in this column are solely those of the author and do not necessarily represent those of RT.
You can share this story on social media: