More Twitter censorship is coming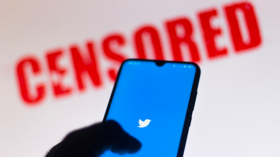 Jack Dorsey, the Twitter CEO who helped "fortify" the 2020 election and banned a sitting US president from the platform, may end up looking like a champion of free speech next to his successor, if the past is anything to go by.
One of the founders of Twitter, Dorsey resigned as CEO on Monday, and said he'd leave the company's board of directors in May. His replacement is Parag Agrawal, who's been Twitter's chief technology officer since October 2018.
Critics of Twitter's censorship like to bring up a quote about the company being "the free speech wing of the free speech party." However, that one came from a UK-based executive named Tony Wang – and dates back to 2012, four years after Dorsey was ousted as CEO. He triumphantly returned to Twitter in 2015, just in time for his platform to play a key role in US politics, enabling Donald Trump to tweet his way into the White House.
Facing a barrage of criticism about "Russian disinformation" from Democrats – whom he openly sympathized with – in the aftermath of the 2016 election, Dorsey oversaw a series of purges on the formerly free platform, starting with banning RT from buying ads and culminating in the January 8 "permanent suspension" of Trump, the sitting US president at the time.
The "Russian meddling" was about as real as the "Trump-Kremlin collusion" – that is to say, not at all – but it didn't matter, as it provided a pretext for censoring people a certain political party didn't like.
Twitter even censored other media outlets. For several weeks in October 2020, it locked the account of the New York Post, after their story about Hunter Biden's laptop was declared "misinformation" and "hacked materials" ​​– neither of which was true. Meanwhile, they tagged every post critical of novel electoral procedures with labels about how voting by mail is "safe and secure," which just happened to be talking points promoted by people behind the "extraordinary shadow effort" to "fortify" the election, as described in the notorious February 2021 TIME article.
Yet when Dorsey announced his departure, just about everyone who has criticized Twitter's past censorship voiced concerns that his replacement will be worse. "Hard not to see this as bad news," said journalist and long-time free speech advocate Glenn Greenwald, adding that Dorsey has been "far better than most, and way more responsive to critiques."
Hard not to see this as bad news. I don't think it's been fully appreciated that on key SV issues - including decentralization, transparency and free speech - @Jack has been far better than most, and way more responsive to critiques. We'll see what happens but it seems not great: https://t.co/drWsmMZukj

— Glenn Greenwald (@ggreenwald) November 29, 2021
Meanwhile, multiple users dug up Agrawal's own words to speculate what the new CEO might be like. One quote in particular made the rounds, an October 2010 tweet in which Agrawal quotes someone saying "If they are not gonna make a distinction between muslims and extremists, then why should I distinguish between white people and racists."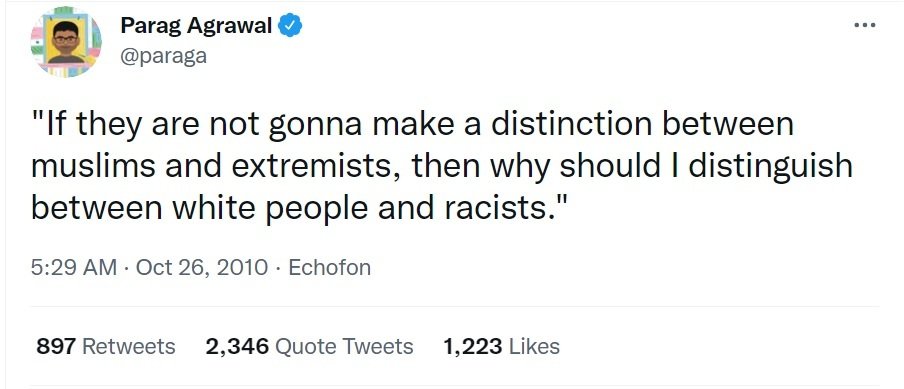 Progressive journalist Lee Fang described the sentiment as "revenge-based identity politics."
Another user pointed out that Agrawal oversaw Twitter's 2019 acquisition of Fabula, a London-based startup developing AI to detect "fake news" and "disinformation." The company's co-founder and Imperial College London professor Michael Bronstein told TechCrunch in February 2019 that its AI would judge fake news not by the content, but by the way it spreads, saying there is a specific pattern to it. Their training algorithm, he explained, also relied on labels from third-party fact checkers such as Snopes and PolitiFact. Both have been accused of pedantry in service of political bias.
Since then, Twitter has banned people for "undermining faith in NATO," got itself outlawed in Nigeria for censoring its president, and partnered with AP and Reuters to "elevate credible information" – in other words, act like a publisher, not a platform. That's relevant because under the infamous Section 230 of US law, platforms are immune from legal liability for content they host, but publishers are not.
Which brings us back to Agrawal. Shortly after the 2020 election, he gave an interview to the MIT Technology Review, in which he explained Twitter's censorship as focusing on "potential for harm."
"So, we focused way less on what's true and what's false. We focus way more on potential for harm as a result of certain content being amplified on the platform without appropriate context," Agrawal said, before adding the part that's quickly becoming notorious.
"Our role is not to be bound by the First Amendment, but our role is to serve a healthy public conversation and our moves are reflective of things that we believe lead to a healthier public conversation. The kinds of things that we do about this is, focus less on thinking about free speech, but thinking about how the times have changed," he said.
Twitter's role is increasingly "moving towards how we recommend content," Agrawal argued, presumably referring to their infamous editorializing in the trending tab.
While it is theoretically possible for Agrawal to turn a new page as CEO and not go down the well-worn path of censorship and narrative management, all of the above makes it highly unlikely.
The statements, views and opinions expressed in this column are solely those of the author and do not necessarily represent those of RT.
You can share this story on social media: