BLM's Christmas message? 'Boycott white businesses'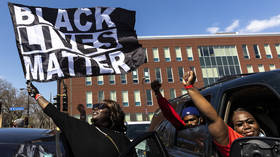 "I'm dreaming of a non-white Christmas." That's the aim of BLM activists in California, who want people to direct all their festive spending to black-owned companies and pull investment out of their white-owned counterparts. 
The countdown to the holidays is well underway. Christmas trees and decorations have started to appear in the streets, shops are full of 'must-have' gifts, and there's even a rebooted 'Home Alone' movie. But the idea of goodwill to all isn't being preached by everyone.
#BlackXmas is a disheartening and severely misguided idea from Black Lives Matter (BLM) activists in Los Angeles. The premise is simple: not to spend any money on Christmas items that aren't produced by black-owned businesses.
Something similar, Black Pound Day, already exists in the UK, but it's only a single day every month and its worthy aim is to help small local firms trying to establish themselves. #BlackXmas is a whole other beast and has a poisonous racist agenda, as it explicitly encourages consumers to "divest from white corporations".
The sheer discrimination of this myopic stance is bad enough. You can only imagine the uproar were the roles to be reversed and a white campaign group was urging a boycott of black-owned businesses.
But it also exposes the primitive thought process of those behind it. They are, in essence, conceiving every white-owned business to be something akin to a cotton plantation, with workers in shackles watched over by domineering guards on horseback.
In reality, there are a lot of progressive corporations and companies that are helping different communities, including the black one, to advance by offering them employment and opportunities.
Consider the case of Michelle Obama, who went from humble beginnings to a respected figure able to command an audience anywhere. Her professional break came at Sidley Austin, a law firm started by two white men.
Obama revealed in her book 'Becoming' that only five of its 400 lawyers were African American, which is a shocking statistic. But the key is that she wasn't discouraged or consumed with hate; she drove on, changed her course and surpassed all her peers.
When doors appear to be closed, what is needed is the belief that they can be broken down. Athletes such as golfer Tiger Woods and Formula One world champion Lewis Hamilton have made such a splash in their white-dominated sports that kids of colour across the world now believe it's possible for them to succeed, too.
Getting wrapped up in settling scores, as BLM's #BlackXmas seeks to do, will never lead anywhere positive. Actively trying to bankrupt a business because of the owner's skin colour is blatant discrimination. And then to wrap it up into Christmas is doubly depressing. Whether you're religious or not, it's a time of year when families, friends and communities should come together. Not in the eyes of BLM, though, which appears to believe it's the optimum time of year to crank up racial division.
That's illustrated in another element of the campaign, 'If You Must Buy, #BuyBlack', which presumably wants parents not to hunt down the latest toy for their kids, but instead to trawl corporate records to see who manufactures it and if they are black.
Let's be brutally honest here: directing who we interact with based on their skin colour is racist. Yes, we can acknowledge discrimination exists and many systems need reforming, but this sort of inverted racism serves only to promote division and ultimately changes nothing. I very much doubt Amazon's Jeff Bezos is losing sleep over it.
The rise of BLM over the past few years has been highly contentious. The organization has successfully driven the debate about racial equality, but sparked so much emotion that some people have clearly allowed its new-found prominence to blind them.
You can't constantly blow everything up over perceived imbalances, as your entire life will become a never-ending battle that goes nowhere. Hopefully, the campaigners behind #BlackXmas will wake up and realise their mistake.
They should take inspiration from another pioneer, Mamie Till. Her innocent 14-year-old son, Emmett, was murdered in 1955 in Mississippi by two white men, with officials subsequently trying to sweep the matter under the carpet. Mrs Till forced them to return the boy's body to Chicago and showed his open casket to the world so people could see the brutality he had endured.
Despite never getting justice for her son, she pushed forward the US' racial parity laws – and famously said of the matter, "I have not spent one minute hating."
BLM would do well to remember this. Life is not perfect and injustice is still very real, but polluting the festive season with racist rabble-rousing is unacceptable. My advice? Divest from #BlackXmas.
The statements, views and opinions expressed in this column are solely those of the author and do not necessarily represent those of RT.
You can share this story on social media: