I live near Waukesha. Here's how it can recover from the deadly attack that shocked the world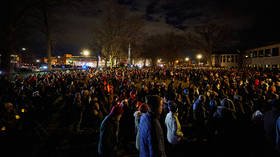 There is no easy way to cope with the carnage and death we witnessed last weekend at a Christmas parade in my local town. But the outstanding sense of community will see Waukesha rise again. 
Downtown Waukesha, Wisconsin could stand in for Main Street USA at any Disney theme park. Named after a Native American tribal leader of centuries past, the suburban bedroom community of about 70,000 stands 20 miles west of downtown Milwaukee. Home to a mixed-race, middle-class community, its narrow, one-way streets wind in and around the Fox River and buildings that rise no more than a couple of storeys, regardless of function.
I sometimes take my young nephew to the heart of Waukesha for his weekly art school lessons at Otto's Fine Art Academy at the corner of Main and Broadway. It would prove a challenge to imagine a community less likely to witness an SUV smash through crowds of children and elderly women during a parade. Still, a skyline studded with church steeples and trees in full autumn color stands quiet this week as the city mourns six of those citizens – friends, classmates, and neighbors who gathered on Sunday to celebrate the holiday season.
On November 21, an hour or so after the state's beloved Green Bay Packers stumbled into a close loss on the football field, Waukesha's families gathered in the heart of their nearly 200-year-old downtown to watch the traditional Christmas parade return after a one-year Covid-19 hiatus. Over the next hour, people of all ages lined Main Street to watch everyone from high school marching bands and dance teams to the local chapter of Dancing Grannies and Santa himself wave past them on a crisp November night.
Less than 45 minutes into the festivities, a red Ford SUV traveling at freeway speeds tore down the full length of the parade route. Countless social media videos and the city's official online parade stream captured the attack, revealing a driver who never slowed down and deliberately steered into women and children before disappearing from the scene. There seemed little chance the driver made a wrong turn or somehow lost control of the vehicle.
A moment of silence and confusion gave way to screams and panic as realization struck. Eyewitnesses turned to find bodies, uniforms, candy and musical instruments strewn about the street as families scooped up child spectators and rushed them from the devastation. Stunned Samaritans tried to aid the wounded until first responders already on the scene quickly stepped in to take charge. It was horrifically clear in more than one case that there was no hope of saving the victim.
Today, the parade route remains a crime scene. Downtown Waukesha is closed, as are the town's schools and many businesses. Flags fly at half-mast throughout the state.
Within an hour of the attack, Waukesha police located the battered SUV and had their person of interest – the Ford's owner. Later that night, the world learned the identity of the suspect, Darrell Brooks Jr. (39). An aspiring local rap artist, Brooks is a lifelong career criminal with charges spread across three states. He has now been charged with five counts of intentional homicide.
A public records search in Milwaukee and Waukesha Counties revealed Brooks' history with violent crime and sex charges running as recently as early November, when he allegedly confronted a woman outside a hotel, punched her and ran her over with the same SUV used in the parade tragedy.
A registered sex offender in Nevada, Brooks also faces criminal issues in Georgia. After being charged with that November 5 vehicular assault, Brooks paid a cash bond of $1,000 and walked from a Milwaukee courtroom. Now under extreme public scrutiny, Milwaukee County District Attorney John Chisholm called the $1,000 bail "inappropriately low."
Chisholm did not respond to information requests, but he did publicly promise an investigation of the Brooks bail process in an official statement. Strangely, as of November 24, the "News" page of Chisholm's departmental website offered no content.
What might have caused the attack is unclear. The accused's social media feeds and rap videos called for the widespread death of police, but Waukesha Police report the attacker acted alone. The same reports indicate there are no signs this was a terrorist act or revenge directly tied to the recent Kyle Rittenhouse verdict in nearby Kenosha.
Within 24 hours of the nightmare, hospitals had reported more than 60 injuries and five deaths. The deceased were named as Tamara Durand (52), Virginia Sorenson (79), Leanna Owen (71), Jane Kulich (52) and Wilhelm Hospel (81). Sorenson, Owen and Durand were all members of the area's lighthearted Dancing Grannies – on hand to entertain in the parade.
The families of the dead deferred media requests for comments to a series of GoFundMe pages established for the grieving.
Late on November 23, the family of eight-year-old Jackson Sparks announced his death. According to a statement from the family, Tucker Sparks, Jackson's brother (12), remains in the hospital with spinal injuries.
A sixth charge of first degree murder is expected against Brooks within 24 hours.
A family statement issued by Alyssa Albro, niece of grieving parents Aaron and Shari Sparks, read: "Please know that they appreciate your continued prayers and tremendous outpouring of support for their family. They do however ask for privacy at this time to allow Tucker to continue to heal physically and their family to heal and mourn the tremendous loss of their sweet little boy who is now under the care of Jesus."
The full list of the injured contains multiple children. Their identities remain private. Regular news conferences at the Wisconsin Children's Hospital conducted by Michael Gutzeit, MD and chief medical officer; Amy Drendel, medical director at the hospital's Emergency Department and Trauma Center and professor of pediatric emergency medicine at the Medical College of Wisconsin; and Michael Meyer, MD, medical director of Children's Wisconsin Pediatric Intensive Care Unit and chief of pediatric critical care at the Medical College of Wisconsin are keeping the pubic updated on the status of the unidentified victims.
As of Wednesday, November 24, hospital authorities report five children in critical condition, two in fair condition and three in good condition.
Claudia Ressel-Hodan, PSYD, is a retired psychotherapist who knows Waukesha well, having worked with the county's special education department for years before entering private practice. Considering one death and several injuries befell children, Ressel-Hodan's thoughts are with kids who witnessed or learned of the random attack soon after it occurred.
"It's important to talk to kids about the incident at a level they understand," Ressel-Hodan said. "It's best not to talk down to them, but you also don't want to confuse them."
Above all, Ressel-Hodan insists the children of Waukesha and any other young person confronting the incident needs to know immediately that they are safe.
"Once you reassure them of their safety, find out their questions," Ressel-Hodan explained. "Let them know that there are some people in the world who do bad things – but reassure them that most people do the right things. Remind them most people are good and kind as best you can."
Finally, Ressel-Hodan urged families to limit media exposure for kids during this difficult time. While the news focuses heavily on Waukesha, the ongoing grim details could prove damaging to young people.
Back downtown at Broadway and Main, Otto's Art Academy was closed during the attack – although school owner and art teacher Melissa Hillmer was at the Christmas parade with her family. Otto's remains closed along with some other downtown Waukesha businesses, but Hillmer insists there are signs of life returning to the town.
"The sense of community in the downtown area is and always has been remarkable," Hillmer says. "I am a lifelong resident of Waukesha, and it's my joy to own the art academy. There are so many lovely people here, and everyone is really rallying around the families of the victims."
Hillmer describes that same scene on Sunday night, with the area completely locked down and abandoned belongings scattered along the parade line. Now, a few days later, businesses, stores and other services are slowly beginning to reopen. Hillmer is keeping the art school shuttered through the Thanksgiving holiday this weekend to give the children "space to process and grieve."
Like many venues through Wisconsin, Otto's is running a fundraiser and selling a 2022 calendar featuring student artwork from 2021. All profits go to the Waukesha Community Fund.
That calendar is just one of many ways that people who could do nothing to prevent a monstrous act can play a role in the recovery.
If you like this story, share it with a friend!
The statements, views and opinions expressed in this column are solely those of the author and do not necessarily represent those of RT.
You can share this story on social media: