Santa Claus is gay? Of course he is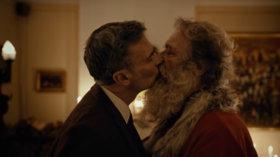 A TV ad for the Norwegian postal service that shows Father Christmas enjoying a festive kiss with a man has gone viral. Santa's coming out makes perfect sense, given his uncanny ability to take on a wide range of identities.
Santa is gay. But you knew that already, right? How could he not be in this, the modern era, the age of woke?
I admit, I'd always presumed there was a Mrs Claus back home somewhere in the Arctic Circle, helping Santa all year long pack presents alongside his elves and reindeer. But apparently not.
It seems Santa was in the closet all along. Maybe that explains why the cuddly couple had no conventionally conceived kids of their own to help out?
This year, Santa is being portrayed as a lonely, ruggedly-handsome old gay dude who gets a man of his very own in his Christmas stocking. That's according to a new festive advert for the Norwegian postal service, Posten, and as Norway is up near Lapland, I guess they'd know better than most.
'When Harry Met Santa' has been pretty much universally praised as "beautiful," "powerful," and "progressive." Just don't tell Mrs Claus.
"It has been a dark year for everyone," Monica Solberg, Posten's marketing director, told LGBTQ Nation. "A global pandemic, code red for our planet, refugee crisis and more. Perhaps what we need this year is a warm and heartfelt love story? A celebration of the fact that we can love whomever we want in Norway, despite everything bad that happens around the world. Posten is an inclusive workplace with great diversity and we would like to celebrate the 50th anniversary with this fine love story." (The ad has been created to mark the ​50th anniversary since homosexuality was decriminalised in the country).
Santa, of course, can be anything you choose him to be. The original Santa, Saint Nicholas, wasn't actively gay and he wasn't actively straight either; he was an early Christian bishop and therefore – possibly – celibate. Saint Nicholas was the patron saint of children, born over 1700 years ago in a town now in modern-day Turkey.
Santa Claus comes from Saint Nicholas in Dutch – Sint Nikolaas – shortened to Sinter Klaas. In the 18th and 19th centuries, he had a range of identities. Some said he was "a rascal with a blue three-cornered hat, red waistcoat, and yellow stockings." Others claimed he wore a broad-brimmed hat and a "huge pair of Flemish trunk hose" – that's kind of a baggy skirt for men, with stockings. Trendy back in the day.
Our modern-day version of Santa has always been an advert anyway; he should be redefined as the patron saint of ad-men, not children. The ruddy-cheeked, chubby white-haired dude with a big beard wearing a red outfit is largely a Coca-Cola creation from 1931 – although it kind of ripped that idea off from Harper's Weekly magazine from 50 years earlier.
Posten has a history of mixing things up a little with its Christmas ads. A couple of years ago, its festive offering caused a bit of a storm for suggesting that Jesus's mother the Virgin Mary wasn't, well, a virgin after all. She'd had a fling with a Holy Land postman.
But I liked last year's better, to be honest. That one had Santa as an unhinged version of Donald Trump trying to make Christmas great again.
This year's ad is very long though, at almost four minutes. It takes a few years for Harry and Santa to get together, as Santa tends to disappear up the chimney every Christmas morning after he's dropped off his presents. There's a metaphor in that, for sure, but quite what that could be is entirely down to personal taste.
Harry dresses up nicely, sprays on some aftershave and sleeps on the sofa to try and catch his man. They chat and have their magic moments every year, but they're not intimate. Until Harry writes Santa a letter: "Dear Santa, all I want is you." He then draws a love heart.
Job done. Santa gets Posten to deliver all those pesky presents this year, and takes the night off. They then have their long, drawn-out kiss.
So, if there are no presents under your tree this year don't blame Santa…blame the Norwegian postal service.
Like this story? Share it with a friend!
The statements, views and opinions expressed in this column are solely those of the author and do not necessarily represent those of RT.
You can share this story on social media: