Carbon foodprints? The ruling class' plan to change what you eat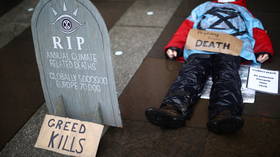 Spawned by the unsustainable menus fed to climate-conscious billionaires at COP26, the latest trend in foodborne guilt – examining one's 'carbon foodprint' – will add to the emotional minefield that comes with ordering dinner.
Eaters can't be allowed to get away with just counting calories anymore, according to The Telegraph, which claims that Brits are clamoring for carbon-counts to be added to restaurant menus.
Supposedly inspired by the menus at the COP26 climate conference, in which all meals were accompanied by their carbon footprint on attendees' printed menus, the plan would seem to be an upwardly mobile version of the old saying 'you are what you eat'. However, for those trying to eat their way to environmental friendliness, more than a few environmental activists noted that the 'sustainable' meals being fed to the masters of the (climate) universe involve emitting more than three times the average 'carbon foodprint' the planet's residents allegedly must adhere to in order to prevent climate catastrophe.
Even the organizers of the menu noted that the average person would have to shrink their 'foodprint' down to 0.5 kg of carbon dioxide in order to meet 2015's Paris Climate Agreement goals. Perhaps their own carbon-profligate menu, which included a haggis dish coming in at more than seven times that desirably average foodprint, was a sly jab at the governments themselves, most of which are considerably behind on fulfilling the carbon promises they made six years ago.
Nevertheless, a little hypocrisy has never gotten in the way of a good grift, and one could do worse than banking on the food-guilt of a country where nearly two-thirds of the adult population is overweight and more than half want to lose weight. If the desire to fit into those old pants or get back in the dating game isn't enough to motivate a person out of the couchborne coma in which they find themselves, perhaps saving the planet is?
Wanting to lose weight and actually taking action to do it are notoriously far apart on the reality spectrum, however. American fast food restaurants have required calorie counts to be posted on their menus for years, a feature that weight-conscious individuals supposedly desired. They may have actually wanted it, but aside from a brief glimmer of novelty, the numbers have faded into the background. If anything, the target audience has just gotten fatter, possibly even spurred on to eat more out of a nagging sense of guilt over the fast food they just ate. After all, who goes to McDonald's with the intent of eating healthy?
Also on rt.com
We'll never solve the problems COP26 is trying to address until those in power understand how real people actually live
Indeed, posting carbon counts next to food items might even backfire. No one consciously goes to Burger King with the idea to do their part to combat the climate crisis; faced with what are likely to be an intimidating set of numbers on the menu, what's to say the average consumer won't just drown their guilt in a super-size soda or another order of fries? A similar conundrum befalls the dieter lamenting their inability to sample the birthday cake at a party. Having stuck to salad during the celebration, they can be found late at night stuffing the rest of the cake into their face.
Encouraging the same kind of guilt that bedevils calorie counters, The Telegraph laid out an exhaustive series of food choices designed to make the reader second-guess themselves. Think you're being virtuous by dumping almond milk in your coffee rather than half and half? Think again – growing almonds uses up a ridiculous amount of water. Even a fruit salad is suspect, the outlet argues, instructing the reader to "buy locally if you can, and in season" – good advice, certainly, but where does the average person find time to research the seasonality of their watermelon? And meat is a moral minefield – one would be well-advised not to even go there.
If the Food Police get their wish and make carbon labels mandatory – a goal The Telegraph insists everyone wants – their activities won't be limited to tracking eaters' carbon jawprints, either. UK Health Secretary Sajid Javid has revealed an ambitious (and privacy-busting) new app aimed at "help[ing] people make positive changes to their diet and physical activity."
Also on rt.com
Published without fanfare, the proposals that show vaccine passports ARE on the way in the UK
Equipped with wrist-worn scolding devices similar to Amazon's Halo, Brits will receive personalized health recommendations from a company the government is working with. Not only will these include rewards for eating more fruits and vegetables, but they'll encourage decreasing portion size and even exercise.
As seen during the rollout of the Covid-19 vaccine, individuals can be easily incentivized to give up their privacy or bodily integrity for $100 or a free subway pass.
But how will Big Brother know what you've eaten on a particular day? The next step in measuring the amount of carbon emissions generated by a decent meal may seem like plumbing the depths of do-gooding absurdity, but smart toilets are just a flush away. And unlike the carbon-counting green goon squad, which may be confronted with diners determined to defend their right to a juicy steak, "everyone uses the bathroom," the inventor of a particularly clever crapper noted. "There's really no avoiding it."
Think your friends would be interested? Share this story!
The statements, views and opinions expressed in this column are solely those of the author and do not necessarily represent those of RT.
You can share this story on social media: