The Cotton Ceiling explained: How lesbians are being coerced into having sex by trans women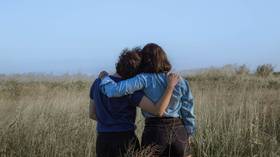 A trans woman is not a biological woman and, when it comes to sexual attraction, that's a key difference for many lesbians. But there's resentment towards those who speak out, along with reports of many being forced into sex.
Imagine the scene. Two women lock eyes and strike up a conversation. They swap numbers and arrange to go on a date. Each considers themself a lesbian and both are single. It's a common occurrence, but what if one is biologically a man and hasn't told the other?
That's the territory of the Cotton Ceiling, a term created by trans porn actress Drew Deeaux, one that's becoming more widely known due to the rise of trans activism. It refers to many lesbians' stance of stating they are not attracted to a biological male, something many are being vilified for.
"I forced myself to date trans women because I was made to feel like I was a bigot for not being attracted to them as a lesbian. It was incredibly traumatic and I was treated like utter crap. I hate that other lesbians are being put in the same situation..."

— Eliza Mondegreen (@elizamondegreen) October 26, 2021
Speaking to RT, Jen from Manchester in England is a lesbian and said of the Cotton Ceiling, "It is basically the invisible barrier that will stop lesbians seeing trans women as viable sexual partners. I'm not coming at it from a perspective of who's above another person; I think we're all equals. But we're very different. I do not think a penis that has been surgically reconstructed to look like a vagina is the same thing as a vagina."
Bluntly, lesbians like Jen can't comprehend dating someone other than a lesbian like themselves, in the same way that a heterosexual man or woman would not date someone of the same sex.
I have experienced abuse on lesbian FB sites from transwomen, NBs and lesbian trans allies . All for Asserting same sex attraction. Been called transphobe, obsessed with genitals, a backwards thinking terf and told to get myself educated. I am not alone in receiving such abuse

— Ginsister61🏁🏁🏁🏁💚💜🤍 (@Ginsister61) October 26, 2021
Jen continues: "It's not to be offensive or mean – whether the male has got a penis intact or has a neo-vagina, that is not what lesbianism is about. Our sexuality does not include male-bodied people. It's as simple as that."
That explanation sounds logical, but many lesbians find themselves under attack for expressing those views. It has led to some being afraid to air their opinion to avoid confronting the problem.
Amy – not her real name – is one 24-year-old lesbian who has spoken out. After refusing to have sex with a trans woman Amy was made to feel she was under attack. She said, "The first thing she called me was transphobic. She immediately jumped to make me feel guilty about not wanting to sleep with someone."
According to Jen, this kind of story is typical. She explains: "Now we find we're in a space where we have to watch out what we say. If we say we're not attracted to trans women and don't see them as viable sexual partners then we're transphobic, we're hateful, we're TERFs."
Being abused online or feeling nervous about discussing the topic is one thing. However, what happens when a lesbian begins a relationship without knowing the other 'lesbian' is a trans woman? Sadly, there are numerous reports of women feeling coerced or forced into sex.
A recent BBC article spoke to several lesbians who revealed the ordeals they have endured, including Chloe, who did engage in sex but does not think she gave proper consent due to drinking. She said, "I felt very bad for hating every moment, because the idea is we are attracted to gender rather than sex, and I did not feel that, and I felt bad for feeling like that."
Coercion can be done physically or by emotional blackmail, and some would argue that's a form of rape or sexual assault.
Not all trans women are noticeable and many look like biological women in what is referred to as "passing." Jen says "I've seen plenty of stories of other lesbians being coerced into having sex with the opposite sex essentially, and that is not OK."
"It's very traumatic for a lesbian who has to go through that, because they try to do the right thing. They try to be empathetic towards trans women and try to unlearn their genital preference. But you don't like the opposite sex because that's your sexuality and nothing else."
"It's consent, at the end of the day. The only difference between a trans woman and a man is that the trans woman feels like a woman. The anatomy doesn't change. I care about my younger lesbian sisters and I don't want them to be put in a situation like that or for them to believe they can't say no to anyone."
Trans activists argue that trans women are not doing anything wrong, as they are women.
Not only lesbians date trans women. I'm bi and my girlfriend is a trans lesbian. Trans women are women. Shame on you and your disgusting transphobia.

— Finn 🖤 (@Finn0799) October 27, 2021
Even if a lesbian assumes a trans woman is a biological woman, but then discovers the truth before sexual intimacy gets underway, there's still trauma and psychological damage. Jen doesn't feel lesbians should have to ask for clarification from any potential partner they meet.
She said, "I wouldn't be comfortable asking, but I would want to. Some men taking HRT [hormone replacement therapy] can be quite convincing, but at the same time a woman can have a naturally deeper voice – we come in so many different shapes and sizes, I would want [to ask] but I don't think it's the polite thing to do. That's why I think it's up to the person who is trans to come out with it."
"When you're talking to a lesbian and especially if you're a passing trans woman, we look at you and see your secondary characteristics, and are hoping to get primary characteristics with that. If the calculation is off, it's much more polite and morally correct for a trans woman to say 'I'm trans'."
A fundamental part of the issue is that lesbians are not only interested in whether their partner has breasts and a vagina. Jen added, "We have our biology and just having breasts and a vagina does not equal being a woman. We have smaller hands, smaller shoulders and there's the saying 'the hips don't lie' – they really don't.
"We've got so many things about ourselves that are very different from male anatomy – and being a lesbian is not about hating the male anatomy, it's about loving the female anatomy."
The problem is only going to get worse as transitioning becomes more prevalent across both genders. Jen believes action is now needed to legally define and protect what being a lesbian is.
Also on rt.com
Gay & lesbian NHS staff say they feel 'unsafe' and 'scared' by organisation's pro-trans stance, LGB Alliance warns
She explained, "It's so important to have the word lesbian properly defined as same-sex attraction, so when we say lesbian we know what we're getting and also have 'lesbian only' spaces when it comes to dating."
"Don't go into a lesbian-only space if you're male. If I'm going out to a lesbian-only space and it's full of the opposite sex, that tells me these people don't respect boundaries and if they don't respect those simple boundaries, there are other boundaries they are not going to respect."
"For me, it will be a disappointment as I'm expecting something that was advertised as lesbian only and I'm getting male people."
An indication of how deep the issue has become comes from a small experiment Jen's former girlfriend undertook. She posted her profile on a lesbian dating app and within a few days had 15 replies from interested parties. Of these, nine were biological male; seven who looked male but said they were lesbians, and two who passed as female.
Respecting someone's identity and allowing it to flourish is a sign of a healthy society, but there must be checks and balances. It cannot be right for lesbians to end up alone and vulnerable in a sexual scenario with someone who they think is female but is biologically male.
Jen says she was once approached by a trans woman, who she did not know was trans. Early in the conversation, the trans woman made a subtle comment and Jen politely explained she was happy to talk as friends, but only found biological females attractive.
The issue is particularly pertinent for Jen, as she was raised in the Church of Scientology, in which homosexuality is outlawed. After leaving and being able to live as herself, Jen feels that agency is being stripped from her to accommodate another group. She explained, "I've been out about 10 years and now I feel I'm going back in the closet. I did go back in the closet, because the first time I saw the phenomenon of lesbians having penises was in 2018. I stepped away, hoping it was just a trend, but it wasn't."
"It's pretty much homosexuality erasure and if we're trying to redefine lesbianism to include males, then there is nothing left for people like me who are only sexually interested in a woman being born a woman."
Like this story? Share it with a friend!
The statements, views and opinions expressed in this column are solely those of the author and do not necessarily represent those of RT.
You can share this story on social media: