Mixed restrooms, gay bar trips, lessons on eating babies – parents are rightly angry at the woke nonsense being foisted on kids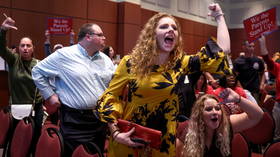 The sight of a Republican senator tearing into the attorney general for ordering the FBI to monitor the 'domestic terrorists' attending school board meetings reflects the fury that is being felt in families across the land.
While the National School Boards Association (NASB) has now apologized for branding responsive parents as "domestic terrorists" and for calling out the FBI, Congress decided this week to face down Attorney General Merrick Garland for responding favorably to the association with an order to his Department of Justice to monitor school board meetings.
Sourcing the rage
To understand why Senator Tom Cotton tore into Garland, one has to know where the rage comes from. Cotton is pouring out his anger as a congressional voice for parents who are upset at schools that are attempting to stretch young minds by teaching them to ponder the most abject forms of human behavior.
The rage can be explained as frustration against an administration that seems more intent upon protecting school boards from angry parents than protecting students from bizarre school practices, such as the one in Georgia recently where a teacher thought it was a good object lesson in sarcasm to task high school students with finding ways to raise babies in order to eat them.
Schools have soylented themselves
The students' multifaceted plan suggested, among many consuming ideas, that the US government could help China with its overpopulation problem by getting it to send newborns to the US for consumption, being the consumer economy that the US is.
At least, the children raised as food in the plan were promised to get proper Covid vaccination before a healthy fattening and then a decent funeral, and their plan stated it would only take children from people who "unfortunately cannot keep" them, perhaps in lieu of abortions.
To think the concept of using people as food was once the great dystopian plot twist for the book and film 'Soylent Green!' Now it is a school lesson plan.
Just an exercise in thought? Maybe, but earlier this year, California schools, in another oddball policy, started teaching children to chant or pray to ancient Aztec gods under their new Ethnic Studies Model Curriculum. Schools that ban prayers to Jesus saw no problem with teaching children to pray to gods that once required child sacrifices. That was also presented as a lesson in openness of thought.
What is it with schools focusing on the sacrifice of babies for food or worship?
And how about this kinky twist on food
Not just a teacher, but a school board member in Florida thought it would be great fun and educational to take elementary school kids to a bar – not just a bar, but a gay bar, and not just a gay bar but one loaded with sexuality on its menu with such tempting dishes as 'Rhoda Cowboy' and 'Ivana Hooker' and 'Smack My Cheeks and Make 'em Rosy' sauce. Really?
The school board member was so proud of her participation that she posted photos and said they do this "every year." Elementary students even got to color in a 'Rosie's Bar & Grill' pumpkin while having, as the restaurant's motto says, "a gay old time."
Queer practices discrediting US education
The parental heat expressed by Senator Cotton against Loudoun County Public Schools over the district's gender-neutral policies and its involvement of the FBI can only be understood when we look at how extreme that district has become in its teachings about systemic racism.
"In recent months, Loudoun County Public Schools has been thrust into the national spotlight for the ongoing conversations there around equity, transgender rights, racism, and critical race theory. School board meetings, normally reserved for recognizing high-achieving students and budget discussions, have become political flashpoints filled with tension, anger, and chaos."
One of the district's peculiar practices was exhibited by a gym teacher who had students pretend they were runaway slaves while coursing through obstacles that represented the Underground Railroad once used by escaped slaves. Parents did not see the need to turn PE into yet another interdisciplinary lesson on racism.
The school subsequently apologized for this "culturally insensitive" lesson, but only when they learned that one of the students made to run like a slave was black and felt demoralized by the anti-racist activity.
Oops. Backfired. The school's anti-racism exercise turned out to be racist.
NAACP Chapter President Michelle Thomas stated critically, "Loudoun County has a history of miseducating kids, number one, and perpetrating racist things amongst our students… This is the most egregious, and the timing [with Pride Week] is incredible."
Oops again and again.
Parents who are suing the Loudoun school district over its flailing attempts at anti-racist lessons say its only achievement is to teach students numerous reasons to hate each other. One of the plaintiffs in the suit, who is part Cuban, says, "I'll be honest, we don't talk about race. My kids don't look through a lens of different skin colors…I lived here for 23 years. What do they [officials] see that I don't see?"
Also on rt.com
This may get me branded a domestic terrorist, too, but parents fighting to stop 'boys in skirts' using girls' restrooms are right
The apologies are weak afterthoughts
I'm not suggesting racist acts should not be punished, but is teaching students to constantly think about everything in terms of color differences truly helping them become color-blind toward their classmates, or are the schools' awkward attempts at reminding everyone of racism in all disciplines just endlessly picking scabs and never letting people heal?
The NSBA backed down from its letter that urged Garland to take action against parental domestic terrorism, stating to all of its NSBA members, "On behalf of NSBA, we regret and apologize for the letter…there was no justification for some of the language included in the letter."
Gee, ya think?
"We apologize also for the strain and stress this situation has caused you and your organizations."
Yes, successfully calling out the FBI on parents suspected as being "domestic terrorists" because they are angry about things like their children being asked to speculate on how to turn babies into marketable food and to pray to the god who demanded child sacrifices does tend to make parents a little hot under the collar.
The school's success at getting the FBI involved got the Republican half of the US Commission on Civil Rights to send a letter to Garland, saying, "We are concerned that much of what the NSBA calls threats and acts of intimidation – and compares to 'domestic terrorism and hate crimes' – can be merely classified as political speech." They asked Garland to present evidence of terrorism by parents that would justify his having ordered the FBI to start monitoring school board meetings for terroristic activities.
Perhaps the next lesson to enter the curriculum will be discussions between teachers and students as to how they can identify whether their parents are covert domestic terrorists or not. Teachers can disseminate the signs of being a covert operative, such as being unduly opposed to school curricula or…owning guns…or talking favorably about homeschooling, which may place students in a narrow cult-like environment under a single charismatic parental leader.
How will these deprived students learn 'critical race theory', which teaches that math is authoritarian and racist even in saying things like 2+2=4 because some cultures might prefer to believe it is five. The actual written argument here has been that, if you have four objects, they are surrounded by five spaces. So, two objects plus two objects may equal five spaces.
I'd conclude that 'some empty heads at the NSBA should roll', but I don't want to be tagged as a domestic terrorist, myself. These guys sound like they don't have much nuance for figurative language. So, let me include the disclaimer that I am not sending a veiled message asking parents to arrive at school board meetings with headsman's axes.
Like this story? Share it with a friend!
The statements, views and opinions expressed in this column are solely those of the author and do not necessarily represent those of RT.
You can share this story on social media: