Melting statues to create modern art is a sign America hates its own history & no different from ISIS destroying Palmyra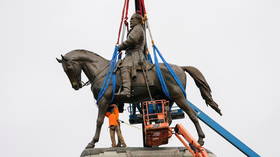 A museum in Virginia is proposing to melt down a statue of Confederate General Robert E. Lee and use the bronze to create a new work of public art. This wilful act of woke vandalism shows America's self-loathing has no boundaries.
The statue was removed from public viewing after gaining notoriety as the focus of the 2017 Charlottesville Unite the Right/Antifa riots. And now a plan has been submitted by the Jefferson School African American Heritage Center to melt the Lee statue down and use the metal for new artworks, to be decided via "community engagement." This democratic art process, alone, sounds dodgy and post-modernist, and likely to result in a series of meaningless obtuse shapes and badly rendered George Floyd busts.
Organizations backing this proposal (including George Soros' Open Society) have pledged $590,000 towards the project so far, which has been labelled as a re-contextualization – a rather typically heartwarming and faux-intellectual act of wordsmithing, the neo-liberal way to say "vandalised, destroyed, replaced."
Also on rt.com
Robert E. Lee helped end the first American Civil War, and those seeking to erase him are leading the US into another
Gregory Downs of the University of California stated that the museum's plan was a creative approach to "confront the past and help people better understand the past." Naturally, this kind of banal statement is completely meaningless, with overtones of 'something a professor worried about his job should say'. It's smoke and mirrors, a funny dance to divert attention in avoidance of difficult truths.
The truth here is that a museum wishes to destroy a historic statue. This is not what museums are for, ever, for any reason, regardless of the type of museum or how you interpret the past. The rationale behind the proposal is another example of the twisting mind-somersaults of a nation which hates its history and loathes its present. The machination of the woke mob knows no scrupulous boundaries, every limit is prodded with language tricks and emotion. Until a new limit – or a new low – is reached.
This is a step beyond mere statue removal, such as the 'relocation' of the American Museum of Natural History's statue of Teddy Roosevelt in New York City. That was bad enough. This is historians destroying history to satisfy the woke mob.
A year ago Sarah Parcak, professor of ancient architecture at the University of Alabama in Birmingham, made a series of tweets explaining how Antifa protesters could successfully pull down and destroy monuments. This occurred as rioters were vandalising the Lincoln Memorial, World War II memorials, and other iconic sites.
Ms. Parcak, an Egyptologist, went so far as to say that obelisks also "might be masquerading as a racist monument," and require vandalism. "PSA for ANYONE who might be interested in how to pull down an obelisk safely from an Egyptologist who never ever in a million years thought this advice might come in handy," she tweeted. She did not lose her position at the university over any of this.
in America today, one can expect professors of ancient architecture and entire museums to not just condone, but actively seek, the destruction of historic sculptures and monuments – those very things that are their ward to protect. The reverse of their primary teleological function. It is like a dentist who just pulls all your teeth out, or a mechanic who breaks every car he sees.
A little twist of thinking, and a few tricky words, and their essential purpose is completely reverted, and they become like ISIS defacing Palmyra – they have a similar fundamentalist fervor to destroy. Because nothing can impede a woke moralisation – a re-contextualisation – of historic events or truths.
All arguments presented through the examining prism of killwords such as 'racist' or 'sexist' are open to contemporary trial and judgement on pain of death. Even moralisations occurring as we speak, that are today called 'woke', are subject to re-contextualisation by tomorrow – and possibly deemed guilty by whatever margin the goalposts of morality have moved in 24 hours.
Guilty.
Also on rt.com
Removal of Confederate statue in Charlottesville causes division, with protesters calling it an erasure of history
If truly nothing can stand up to this process of dissolution, then there is not much point in continuing the masquerade, as no nation which actually hates itself can carry on for too long. There are many who have thought that by lowering their heads, their jobs and livelihoods might remain secure. That by saying nothing, by conceding to the latest moral rule espoused by the corporate press, they will be permitted to feed their families another day.
And yes, you will be rewarded for compliance, by saying nothing, or even cheering as they take the statues down. But around every corner, every day, for everyone, a new 'thing' is awaiting your compliance.
Or else.
Like this story? Share it with a friend!
The statements, views and opinions expressed in this column are solely those of the author and do not necessarily represent those of RT.
You can share this story on social media: