Robert E. Lee helped end the first American Civil War, and those seeking to erase him are leading the US into another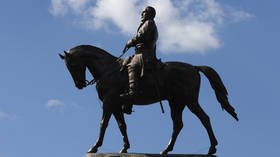 That the Virginia governor caught wearing either KKK robes or blackface has now removed a monument to Robert E. Lee is perhaps the most ironic twist in modern America's Year Zero obsession with erasing its history and heritage.
The removal of the equestrian statue of Lee from Richmond, Virginia, which took place today, is "an important step in showing who we are and what we value as a commonwealth," Governor Ralph Northam said earlier.
Richmond is "no longer the capital of the Confederacy," said Mayor Levar Stoney, but a "diverse, open, and welcoming city, and our symbols need to reflect this reality."
The move is as cynical as it is predictable. The virtue-signaling Northam is the man whose medical school yearbook showed him costumed in either blackface or the robes of the Ku Klux Klan – a group formed after the Civil War to terrorize African-Americans freed from slavery and fight the Union's military occupation of the defeated Confederacy.
Yet only a fraction of Confederate veterans joined the KKK – thanks to Lee. The commander of all Confederate armies personally rejected the proposals by his subordinates to switch to a guerrilla insurgency in April 1865, once the conventional war was lost. Instead, he surrendered to his old Army colleague Ulysses Grant at Appomattox, ending the four years of bloodshed that claimed at least 600,000 soldiers' lives.
When the Associated Press (AP) reported on the monument's removal, it was denounced by activists as "advancing racism and sanitizing atrocity," for daring to describe Lee as a "Civil War hero," rather than a "white supremacist terrorist, slave owner" who "committed treason against the United States."
This is how media advances racism & sanitizes atrocity.Robert E. Lee was a white supremacist terrorist, slave owner, and committed treason against the United States, killing hundreds of thousands of people—and yet, the @AP calls him a "Civil War hero."Disgusting. pic.twitter.com/7I35azMCRw

— Qasim Rashid, Esq. (@QasimRashid) September 7, 2021
It mattered little that the agency went to Orwellian lengths last year to promote selective racial capitalization and excuse riots – the AP can apparently never be 'woke' enough. This is the kind of attitude shaped by decades of propaganda reducing the Civil War to being just about slavery, and Lee to just the Confederate general who almost defeated the bigger, better-armed Union armies.
This leaves out the fact that Lee's father, 'Light-Horse Harry', was a Revolutionary War cavalry commander, a governor of Virginia, and a member of the US Congress; that Lee helped the US Army win the war against Mexico and later served as superintendent at West Point; and that he refused to follow the rest of his cavalry regiment when it defected to Texas in 1861, denouncing secession as anarchy, and resigned his commission only because he would not "draw my sword" upon Virginia, his native state.
Historical facts, however, are considered heresy in the new America, redefined at some point as Our Democracy. Instead, there has been a crusade to reduce all of US history to 'racism,' and to 'reimagine' everything from the standpoint of the current year.
Also on rt.com
'Harmful Language Alert': National Archives puts WARNING LABEL on US Constitution and Declaration of Independence
The Betsy Ross flag, the song 'God Bless America' and the singer for whom it was written, Mount Rushmore, the US national anthem, and even rock formations have all been targeted by people eager to purge history and start anew.
Historical amnesia means they're not even aware they're following in the footsteps of Pol Pot's Khmer Rouge, who obliterated much of Cambodia's cultural heritage in the name of restarting history from 'Year Zero' – and also murdered millions. Before that, there were the French revolutionaries of 1789, who started at 'Year One' before going on a mass-murder spree known as 'la Terreur' (the Reign of Terror). The Bolsheviks who took over Russia in 1917 also sought to "destroy the whole world of violence" and build a new one instead, and followed up the destruction of churches and tsarist monuments with… see the pattern yet?
There is a haunting photo of Adolf Hitler that resurfaced in 2014, showing him looking at a plaque he received as a birthday gift. The marker celebrated Gavrilo Princip, the Bosnian Serb who assassinated Archduke Franz Ferdinand of Austria-Hungary in Sarajevo in 1914 – triggering the First World War – and had been taken down by Nazi sympathizers in April 1941, after the Axis occupation of Yugoslavia.
A plaque honoring Gavrilo Princip, the 1914 Sarajevo tyrannicide, was taken down and given to Adolf Hitler as a birthday gift in 1941, following the Axis occupation of Yugoslavia. (photo: Heinrich Hoffmann/Bayerische Staatsbibliothek München/Bildarchiv) pic.twitter.com/bZup6cgVyj

— Nebojša Malić (@NebojsaMalic) September 7, 2021
Four years later, Hitler would commit suicide in his bunker, having killed millions. One of the men instrumental in his defeat was Dwight Eisenhower, supreme commander of the Western Allies in Europe. 'Ike' would go on to become the 34th US president, and, among other achievements during his term in office, end the racial segregation of public schools.
Eisenhower also considered Robert E. Lee "one of the supremely gifted men produced by our nation ... selfless almost to a fault … noble as a leader and as a man, and unsullied as I read the pages of our history."
"From deep conviction, I simply say this: a nation of men of Lee's caliber would be unconquerable in spirit and soul," Eisenhower continued. "Indeed, to the degree that present-day American youth will strive to emulate his rare qualities … we, in our own time of danger in a divided world, will be strengthened and our love of freedom sustained."
Also on rt.com
United States of… Yugoslavia? Cartoon hints at next chapter of American civil war
Yet it's the same people claiming to be the true heirs of the men Eisenhower commanded at the Normandy landings, and calling themselves 'Antifa' and anyone they dislike a 'Nazi', who have led the charge to topple Lee's monument and many others. Having learnt nothing from history, they seek to erase it – and in the process, lead the US into another civil war, 160 years after the last one.

Think your friends would be interested? Share this story!
The statements, views and opinions expressed in this column are solely those of the author and do not necessarily represent those of RT.
You can share this story on social media: